Supervisor - #500 - Evenings/Overnight
$1,000 Sign on Bonus! ($500 after 30 days of employment and $500 after 90 days of employment)

Location: Sheetz Stores #00500 - 1910 MT NEBO ROAD  SEWICKLEY, PA

Starting Rate of Pay: $17.50
Full or Part Time: Full Time
Shift Needed: Evenings/Overnight

 


SUPERVISOR


Schedule:
Full Time Four Day Work Week !!
Three Days Off !!!


Primary purpose of the Supervisor position:

If you are a self-motivated, dependable and efficient employee with the ability to prioritize tasks and delegate effectively, as well as create a positive work culture, then you would be a GREAT fit for our Supervisor position.

Work as part of a team to engage customers with hospitality in all aspects of their experience at a Sheetz Convenience Restaurant. When you are at Sheetz you can do more! You can grow in your skillset engaging in many facets of the store in regards to sales, food preparation & customer service. With our fast-paced restaurant environment, it is essential we have a Supervisor who is outgoing, enthusiastic and energetic.

Sheetz values YOU. We have benefits & growth opportunities abound. We happily offer our employees food & drink discount, tuition reimbursement, employee bonuses and more!

ESSENTIAL FUNCTIONS: (other duties may be assigned)
Serve as a hospitality ambassador by greeting customers and providing an excellent experience
Prepare quality food and beverage items in a fast & friendly manner to meet customer expectations while following proper safety procedures
Train and coach Team Members while providing day-to-day prioritization of work assignments
Ensure all products are ordered, merchandised, rotated and readily available for customers
Maintain a neat and clean appearance in the store, kitchen, and dining areas
The perfect fit for our Sheetz team would assist the Store Manager and Assistant Manager in creating a positive culture by treating employees fairly and with respect. Additionally, they would be self-motivated, dependable and able to work effectively in a fast-paced environment while maintaining 100% total customer focus.

REQUIREMENTS OF THIS POSITION:
The ability to multi-task, perform repeated bending, standing, and reaching, and occasionally lifting up to 20 pounds and the ability to assist another person in lifting 40 pounds.
Must be 18 years of age or older (VA state law requires Supervisor's to be 21 years of age or older for certain tasks).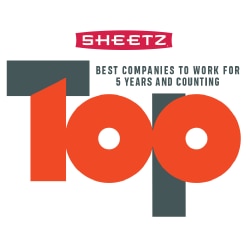 Nearest Major Market: Pittsburgh
Apply now »