Senior Solutions Architect - Supply Chain - Pittsburgh, PA
Location: Sheetz Corporate - Pittsburgh, PA
PRIMARY PURPOSE OF THIS POSITION:

Work collaboratively with business stakeholders and information technology teams to design systems that provide a competitive advantage for Sheetz. Function as a trusted advisor to the Sheetz executive team and provide technical guidance based upon business requirements and industry best practices. Responsible for coordinating with the Sheetz Enterprise Architecture team and information technology delivery teams to ensure that our systems can be deployed and supported efficiently. Also responsible for evaluating the technological landscape and working with our business partners and suppliers to define our future solution strategies.

ESSENTIAL FUNCTIONS: (other duties may be assigned)
Participate in the planning, definition, and high-level design of systems solutions.
Participate in evaluations of off-the-shelf software packages and assess buy versus build decisions.
Provide expert technical and industry guidance to portfolio stakeholders.
In coordination with business architects, ensure that solution designs adhere to allowable cost constraints.
Plan and develop the architectural runway in support of Sheetz business units.
Create prototypes or mockups to demonstrate the efficacy of solution designs.
Communicate with a wide range of stakeholders including corporate executives, technical subject matter experts, vendors and suppliers, and customers.

REQUIREMENTS: (Equivalent combinations of education, licenses, certifications and/or experience may be considered)

Education
Bachelor's degree in Computer Science, Management Information Systems, Computer Engineering; or a four-year degree in another field of study which includes courses in computer programming, systems analysis, system development, or systems engineering is required
Master's degree in related field preferred.
Experience
Minimum 7 years of experience as a supply chain solution architect, senior software engineer, senior software developer, or a similar role in a technical team required
Experience in systems or design thinking preferred.
Experience as a participating member of a Lean-Agile Center of Excellence (LACE) team required
Demonstrable experience in digital transformation preferred
Licenses/Certifications
Professional certification in one or more cloud platforms (AWS, Azure, GCP) preferred.
Professional certification in systems or design thinking preferred.
Tools & Equipment
General Office Equipment
Enterprise agile planning tools.
ABOUT SHEETZ
Sheetz, Inc. is a fast-growing, family-owned, food/convenience company that has been in business since 1952. Sheetz has over 600 locations in Pennsylvania, Ohio, Virginia, West Virginia, Maryland and North Carolina.

Our mission at Sheetz has been to meet the needs of customers on the go. Of course, things have changed over those nearly 70 years. Life is faster and busier, and customers expect us to be there when they need us most. One thing that hasn't changed is our commitment to our customers, our employees and the communities in which we operate. Sheetz donates millions of dollars every year to the charities it holds dear.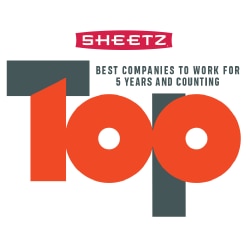 Nearest Major Market: Pittsburgh
Apply now »