Senior Enterprise Architect - Remote
Location: Sheetz Corporate - Pittsburgh, PA
This role qualifies for a remote work arrangement within our footprint (OH, MD, VA, NC, WV, MI and PA)
PRIMARY PURPOSE OF THIS POSITION:

Proactively and holistically helps guide the enterprise through transformation and optimization initiatives. Activities includes helping the organization grow revenue, optimizing costs and mitigating risks, focusing on understanding and applying existing, new and emerging technologies to transform and optimize business and operating models. Help the organization plan, design, innovate, orchestrate, facilitate, navigate and operationalize the digital enterprise.

Responds to disruptive forces by helping business leaders facilitate the decision-making process and providing actionable recommendations on initiatives and policies to help the organization drive targeted business outcomes. Helps business leaders enable their future-state business capabilities that, in turn, drive the organization's targeted business outcomes through the choice of initiatives the organization chooses to invest in.

ESSENTIAL FUNCTIONS: (other duties may be assigned)
Leads the development of a value proposition and execution of a communication and education plan for the enterprise architecture practice.
Leads the creation and maturing of the enterprise architecture practice into an internal management consultancy.
Plans and manages a talent pool of domain architects that works with EA and non-EA related disciplines to deliver the goals, objectives and outcomes of the organization.
Understands disruptive forces and the business's economic and financial levers that are susceptible to digital transformation to effectively guide technology investment decisions.
Leads the analysis of business and operating models, market trends and the technology industry to determine their potential impact on the enterprise's business strategy, direction and architecture.
Assesses disruptive forces impacting the organization and identifies technology-enabled innovation opportunities that enables business strategy.
Contextualizes technology trends based on social, economic, political and other nontechnology trends.
Scans the world for major disruptive technology and nontechnology trends (trendspotting) that affect business. Provides practical advice and best practices to overcome these challenges and successfully deliver the expected business outcomes.
Details potential competitive threats from digital enterprises that are generally considered outside of your traditional realm of competition.
Provides consultative advice to business leaders and organizational stakeholders who seek actionable recommendations to make investment decisions about the next business and operating model of their organization, using technology to make that change happen.
Builds the EA practice to become an internal management consultancy, offering services and skills to support the development and execution of business strategy.
Leads a collaborative group of architects and works with a strategic review board to resolve conflicts between product and enterprise business outcomes.
Leads analysis of the IT environment to detect critical deficiencies and recommend solutions for improvement.

REQUIREMENTS: (Equivalent combinations of education, licenses, certifications and/or experience may be considered)

Education
Bachelor's Degree in computer science, engineering, or a related field required.
Experience
Minimum 8 years of IT and/or business leadership experience required

Minimum 2 years of Cloud security experience required.

Knowledge of IaaS, SaaS, PaaS, and other Cloud Security Architect as well as Security Principles required

Experience in identifying gaps in existing architectures preferred

Experience working with technical and operational teams with strong meeting management, relationship building and negotiating skills; able to gain trust of diverse stakeholders preferred

Experience in cybersecurity designs for systems, networks, and multi-level security requirements or requirements for processing multiple classification levels of data preferred
Licenses/Certifications
CISSP, CISM, CISA certification or equivalent required(or ability to attain within 6 months of hire)
Tools & Equipment
ABOUT SHEETZ
Sheetz, Inc. is a fast-growing, family-owned, food/convenience company that has been in business since 1952. Sheetz has over 600 locations in Pennsylvania, Ohio, Virginia, West Virginia, Maryland and North Carolina.

Our mission at Sheetz has been to meet the needs of customers on the go. Of course, things have changed over those nearly 70 years. Life is faster and busier, and customers expect us to be there when they need us most. One thing that hasn't changed is our commitment to our customers, our employees and the communities in which we operate. Sheetz donates millions of dollars every year to the charities it holds dear.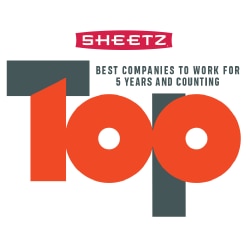 Nearest Major Market: Pittsburgh
Apply now »