Research Manager - Pittsburgh, PA
Location: Sheetz Corporate - Pittsburgh, PA

 

PRIMARY PURPOSE OF THIS POSITION:

Responsible for the design, execution and reporting of all qualitative and quantitative primary research efforts that help to shape enterprise strategy, corporate initiatives, business units strategy and the overall growth of the organization. Proactively identify business opportunities/challenges, and provide solutions.

ESSENTIAL FUNCTIONS: (other duties may be assigned)
Work closely with the Manager of Strategic and Business Development and Market & Competitive Intelligence Manager to ensure that all internal primary qualitative and quantitative research projects needs that provide actionable and timely data for better decision making and innovative ideas.
Design, execution, analysis, reporting and presentation of all primary quantitative and qualitative research efforts. Qualitative: Focus Groups, IDIs, Triads, Shop-alongs, Consumer Intercepts, Shop-a-longs, Jam Sessions, Brainstorming sessions, etc. Quantitative: Survey creation, Descriptive, Correlational, Causal-Comparative/Quasi-Experimental, and Experimental Research.
Work closely with Manager of Strategic Research and Market Intelligence Manager to execute the team's research strategies.
Manage research projects that directly impact the ongoing evaluation of the enterprise and business units' strategies as well as corporate initiatives and exploration of business development opportunities.
Support the Market Intelligence Manager in the analysis of market and competitive data and the exploration of business opportunities that derive from the external data.
Manage relationships with external partners and vendors.
Regularly present actionable data to large and small groups within the organization.
Examine the why and how of macro trends, industry shifts and organizational intelligence.
REQUIREMENTS:
(Equivalent combinations of education, licenses, certifications and/or experience may be considered)
Education
Bachelors degree in Market Research, Consumer Research, or related field required.
Experience
Minimum of 3 years of extensive experience in the Design, Execution and Analysis of primary research projects required
Minimum of 2 years' experience facilitating ideation/brainstorming sessions or other structured discussions with employees/ consumers required.
Licenses/Certifications
Formal training from a reputable qualitative research organization (Burke, RIVA, MRA, etc.) and survey design required
Tools & Equipment
ABOUT SHEETZ
Sheetz, Inc. is a fast-growing, family-owned, food/convenience company that has been in business since 1952. Sheetz has over 600 locations in Pennsylvania, Ohio, Virginia, West Virginia, Maryland and North Carolina.

Our mission at Sheetz has been to meet the needs of customers on the go. Of course, things have changed over those nearly 70 years. Life is faster and busier, and customers expect us to be there when they need us most. One thing that hasn't changed is our commitment to our customers, our employees and the communities in which we operate. Sheetz donates millions of dollars every year to the charities it holds dear.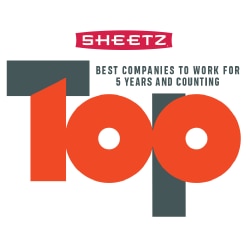 Nearest Major Market: Pittsburgh
Apply now »