Technical Program Manager - Pittsburgh
Location: Sheetz Corporate - PITTSBURGH, PA

 

PRIMARY PURPOSE OF THIS POSITION:

Provides expert level program management and supports multiple major (cross-functional) initiatives as deemed appropriate. Takes ideas from inception, through development. Plans, manages, and governs multiple projects that comprise a program and ensures successful delivery of that program

ESSENTIAL FUNCTIONS: (other duties may be assigned)
Oversees all aspects of a program including the following tasks: Daily program management throughout the program life cycle; Defining the program governance (controls); Ensure that the program (to include the individual projects) will deliver the 'ask' of the Business. Planning the overall program and monitoring the progress.
Manages the program's budget.
Manages risks and issues and takes corrective measurements, including: the identification of the mitigation plan to prevent the Risk from becoming an issue, assisting/communicating how the team will correct the Issue (if it occurs), and tracking changes to the program and individual projects w/regard to scope, budget and schedule.
Coordinates the projects and their interdependencies including: cross-project activities, aligning of the Project Schedules, and creating a rolled-up, (high-level view for CD team) of the projects with enough detail to show whether something is going to have a program-level impact.
Manages and utilizes resources across projects. Coordinates the Vendor Resources for the individual projects to ensure the Vendor's work aligns with the schedule. Works with resource managers to staff projects.
Managing stakeholders' communication. Provides weekly program level status reports to include the status for all projects and/or project requests under the Program umbrella. Provides project closure documentation to include the overall cost of the project. Coordinates touch base meetings w/stakeholders and project team, including sending meeting recap notes.
Aligns the deliverables (outputs) to the program's "outcome" with the aid of the business change manager. Manages the main program documentations such as the program initiation document.
Maintains networks in professional communities; enrich technical and business exchanges with external thought leaders.
Aids w/proposal Development (RFI/RFP) work. Assists w/Contract Negotiations (SOWs/CR's).
Monitors and approves invoices, including vendor time, resources, and tasks, ensuring they map to the appropriate SOW.
Provides the business with visibility on vendor roadmaps so it can identify appropriate releases. Assists the business with providing reliable information to be more pro-active in selected updates. Identifies dependencies with vendor releases, and implements solutions for future releases.
Works with the business, prioritizing 'enhancement' requests for vendors, including: working with the vendor to obtain what they need to draft the Enhancement Requirements (to include coordinating calls with multiple vendors)
REQUIREMENTS:
(Equivalent combinations of education, licenses, certifications and/or experience may be considered)
Education
A four-year degree in technical or business related field required
MBA or an advanced degree preferred
Experience
Minimum 7 years program management experience required
Licenses/Certifications
PMP or similar certification preferred
Tools & Equipment
ABOUT SHEETZ
Sheetz, Inc. is a fast-growing, family-owned, food/convenience company that has been in business since 1952. Sheetz has over 600 locations in Pennsylvania, Ohio, Virginia, West Virginia, Maryland and North Carolina.

Our mission at Sheetz has been to meet the needs of customers on the go. Of course, things have changed over those nearly 70 years. Life is faster and busier, and customers expect us to be there when they need us most. One thing that hasn't changed is our commitment to our customers, our employees and the communities in which we operate. Sheetz donates millions of dollars every year to the charities it holds dear.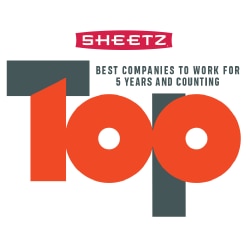 Nearest Major Market: Pittsburgh
Apply now »