Senior Data Analyst - Pittsburgh, PA
Location: Sheetz Corporate - PITTSBURGH, PA
We sell hot dogs, beer, gas, and a bunch of other things, but we're really in the business of "convenience" and that should resonate with you.  At Sheetz, we have a history of making our customers' lives easier. We pioneered self-service touch screens for ordering food. We rolled out our industry leading Sheetz mobile app long before curbside pickup was around. Although we're not a tech company, technology has been at the forefront of our success. And who makes that happen? You do! 
Building, integrating and supporting the cutting-edge applications that power 600+ stores, 22,000 employees and millions of customers isn't an easy job, but that's why we do it!  And we do it in an award-winning culture that's casual and fun. If you're looking for a Made to Order career, hit that APPLY button and let's chat!
All team members are remote due to the pandemic, keeping our employees safe is most important to us. After we transition back to office work when it's safe, we do have the option for remote work arrangements for candidates living within our 6 state footprint.
What you'll do:

Accountable for creating and driving business value and growth though the effective use of Sheetz' most valuable resource: Data. Responsible for assisting the Business Intelligence (BI) department leadership with evolving and administering Sheetz' data and information strategy in order to facilitate and enhance organizational decision-making and data utilization across the company. Responsible for supporting the Chief Data Officer with any ad-hoc advanced analytics as well as developing and executing a training curriculum for departmental and distributed Data Analysts.

Essential Functions:
Be a corporate leader of data-driven insights that help support exploitation of strategic and tactical business opportunities, and be a champion for a data-driven, decision-making culture.

Assist Chief Data Officer with designing, planning, administering, communicating and evangelizing a data strategy to improve the effective use of data in organizational planning and decision making.

Lead the development, assessment, refinement and implementation of corporate strategy through effective use of data analytics.

Provide enterprise-wide data science and business intelligence services as well as oversight and training to decentralized, embedded data scientists and analysts throughout the business.

Develop and mentor future data-driven, analytical leaders and strategists across the organization.

Lead the annual budget process for the Business Intelligence department.

Manage the most advanced analytical tasks and projects requested by other departments and present findings to the most senior levels of the organization.

Provide project management services for large, enterprise data projects and initiatives.

Assist in the creation of policies and procedures for the access, analysis and visualization of data and associated business insights; partnering with IT and RISC.

Experience you'll bring:

Education
Bachelor's degree in Economics, Statistics, Mathematics, Actuarial / Data / Computer Science or related field required

MBA or an advanced degree preferred
Experience
Minimum 5 years demonstrated experience in data modeling, optimization, and application to business strategies required

Minimum 5 years demonstrated experience in integrating complex, inter-departmental processes and information strategies, and/or designing strategic metrics and scorecards required.

Extensive understanding of and practical experience with using the latest data mining, machine learning and/or artificial intelligence techniques preferred.

Extensive experience with or coursework in designing and implementing information solutions required.
Licenses/Certifications
Tools & Equipment
How you'll grow:
We are an innovator in our space and we want to make sure you can keep doing that. We are happy to send you to conferences and continuing education to make sure you continue to be the expert in your field.
We also provide employee training programs to continue your growth in your field while here. We believe there's always room to learn and we offer opportunities to gain hands on experience. Our employees are always encouraged to explore new opportunities, especially within our organization.
Perkz:
We have all the perks you would expect from a leading employer, such as medical, dental & vision, in addition to that we have:
Employee Stock Ownership

College Tuition Reimbursement

401(K) Retirement Savings Plan – a 4% match!

Employee Profit Share

VIP Sheetz Membership (Discounts!)
About Sheetz:
Sheetz, Inc. is a fast-growing, family-owned, food/convenience company that has been in business since 1952. Sheetz has over 600 locations in Pennsylvania, Ohio, Virginia, West Virginia, Maryland and North Carolina.
Our mission at Sheetz has been to meet the needs of customers on the go. Of course, things have changed over those nearly 70 years. Life is faster and busier, and customers expect us to be there when they need us most. One thing that hasn't changed is our commitment to our customers, our employees and the communities in which we operate. Sheetz donates millions of dollars every year to the charities it holds dear.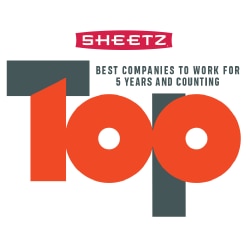 Nearest Major Market: Pittsburgh
Apply now »