Security Architect - Privacy - Pittsburgh, PA
Location: Sheetz Corporate - PITTSBURGH, PA

 

PRIMARY PURPOSE OF THIS POSITION:

The Privacy Security Architect is responsible for management of data privacy, data protection, data usability, performance, and the integrity of data processed by Sheetz. The Privacy Security Architect will be responsible for ensuring regulatory compliance, providing training to staff, communicating with regulators, and understanding relevant data processing risks. In this role, the Privacy Security Architect will take a risk-based approach to data protection and they will be the primary point of contact for Sheetz with regard to potential complaints, queries, notices, and other notification requirements.

This role will collaborate with many multi-functional teams (including program managers, project development, architects, developers, engineers, legal, compliance, governance, and cyber security teams) to implement Sheetz's privacy program.


ESSENTIAL FUNCTIONS: (other duties may be assigned)
Inform and advise Sheetz, including staff who process personal data, of their obligations as per local data protection provisions. The Privacy Security Architect will provide recommendations about the interpretation and application of all relevant data protection rules.
Monitor compliance with local data protection provisions and policies in relation to the protection of personal data.
Inform Sheetz of any failure to comply with the applicable data protection rules.
Conduct data audits to ensure compliance and address potential issues proactively.
Develop process to conduct due diligence to ensure information shared with partners/suppliers is in alignment with all requirements, protocols, and codes pertaining to personal data
Define solution level security for projects; perform reviews for conformance to Sheetz's Information Security standards
Build and maintain a risk assessment process for personal data, including providing advice on performing data protection impact assessments and monitoring continued performance
Research and monitor new developments in the data protection field
Define and document how the implementation of a new technology and process impacts the privacy posture of the Sheetz environment
REQUIREMENTS:
(Equivalent combinations of education, licenses, certifications and/or experience may be considered)
Education
Bachelor's Degree in computer science, computer privacy/law, or computer engineering, and/or 4 years equivalent work experience in privacy law, auditing, or related.
Experience
Minimum 8 years of IT and/or business leadership experience required
Minimum 2 years of Privacy experience required.
Knowledge of IaaS, SaaS, PaaS, and other Cloud Security Architect as well as Security Principles
Proven expert knowledge of data protection law and practices. Ideally with experience developing privacy policies, technology provisions, and outsourcing agreements.
Experience interpreting complicated and/or ambiguous regulatory requirements into understandable and actionable requirements for the organization and staff.
Experience providing guidance on privacy and security risk assessments, countermeasures, and data protection impact assessments.
Licenses/Certifications
Certifications in privacy, such as Certified Information Privacy Professional (CIPP/E, CIPP/US, or CIPP/C), Certified Information Privacy Manager (CIPM), or similar would be preferred
Certifications in IT security, such as a Certified Information Systems Security Professional (CISSP) certification would be preferred
Tools & Equipment
ABOUT SHEETZ
Sheetz, Inc. is a fast-growing, family-owned, food/convenience company that has been in business since 1952. Sheetz has over 600 locations in Pennsylvania, Ohio, Virginia, West Virginia, Maryland and North Carolina.

Our mission at Sheetz has been to meet the needs of customers on the go. Of course, things have changed over those nearly 70 years. Life is faster and busier, and customers expect us to be there when they need us most. One thing that hasn't changed is our commitment to our customers, our employees and the communities in which we operate. Sheetz donates millions of dollars every year to the charities it holds dear.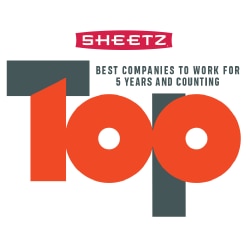 Nearest Major Market: Pittsburgh
Apply now »