Location: Sheetz Corporate - PITTSBURGH, PA
We sell hot dogs, beer, gas, and a bunch of other things, but we're really in the business of "convenience" and that should resonate with you. At Sheetz, we have a history of making our customers' lives easier. We pioneered self-service touch screens for ordering food. We rolled out our industry leading Sheetz mobile app long before curbside pickup was around. Although we're not a tech company, technology has been at the forefront of our success. And who makes that happen? You do!
Building, integrating and supporting the cutting-edge applications that power 600+ stores, 22,000 employees and millions of customers isn't an easy job, but that's why we do it! And we do it in an award-winning culture that's casual and fun. If you're looking for a Made to Order career, hit that APPLY button and let's chat!
All team members are working remote due to the pandemic. Keeping our employees safe is most important to us. After we transition back to office work, when it's safe, we do have the option for remote work arrangements for candidates living within our 6 state footprint
WHAT YOU'LL DO

The Database Developer works with the API/Integration team, end customers, architects, business and IT partners to design, develop and implement data integration solutions. The individual will build and maintain integrations for mission-critical business store and corporate environments and must be capable of understanding business requirements, working with end users, software development concepts and deploying code to support integration between platforms.
Initial and escalation resource for application projects, whether in production or in the development / implementation process.

Provide technical advice to less experienced discipline personnel.

Possess in-depth knowledge of one or more application projects, whether in production or in the development / implementation process.

Create and tune SQL queries as part of the application development process.

Create technical documentation for application development projects as defined by the Sheetz Applications and Development Agile Methodology SOP.

Stay up to date on the production technology solutions by attending related training and conferences as approved by management.

Provide development solutions using Sheetz approved development tools.

Provide evening and weekend "on call/issue" support as needed. Sheetz is open 24/7/365 and as such, our internal and external customers may require support at any time.

Comply with the Sheetz adopted agile and secure coding development methodologies. Refer to the Sheetz Applications and Development Agile Methodology SOP.

EXPERIENCE YOU'LL BRING

Must have working knowledge and some experience with Relational Databases and SQL on platform such as: Oracle, SQL Server and Teradata; Data Quality/Integration, Business Intelligence, Reporting Tools (Tableau, Pentaho and SASS) and API development (i.e. MuleSoft).

Required:
5 years of applicable database programming experience in an application development environment.
Preferred:
A four-year degree in Computer Science, Management Information Systems, Computer Engineering; or a four year degree in another field of study which includes courses in computer programming, systems analysis, system development, or systems engineering is preferred.
One or more of the following certifications is preferred:

Agile Scrum Master certification

Agile Certified Practitioner (PMI-ACP) or similar certification

Certification in a specific Development methodology
HOW YOU'LL GROW
We are an innovator in our space and we want to make sure you can keep doing that. We are happy to send you to conferences and continuing education to make sure you continue to be the expert in your field.
We also provide employee training programs to continue your growth in your field while here. We believe there's always room to learn and we offer opportunities to gain hands on experience. Our employees are always encouraged to explore new opportunities, especially within our organization.
PERKZ
We have all the perks you would expect from a leading employer, such as medical, dental & vision, in addition to that we have:
Employee Stock Ownership

College Tuition Reimbursement

401(K) Retirement Savings Plan – a 4% match!

Employee Profit Share

VIP Sheetz Membership (Discounts!)
ABOUT SHEETZ
Sheetz, Inc. is a fast-growing, family-owned, food/convenience company that has been in business since 1952. Sheetz has over 600 locations in Pennsylvania, Ohio, Virginia, West Virginia, Maryland and North Carolina.
Our mission at Sheetz has been to meet the needs of customers on the go. Of course, things have changed over those nearly 70 years. Life is faster and busier, and customers expect us to be there when they need us most. One thing that hasn't changed is our commitment to our customers, our employees and the communities in which we operate. Sheetz donates millions of dollars every year to the charities it holds dear.
heetz donates millions of dollars every year to the charities it holds dear.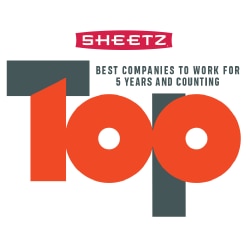 Nearest Major Market: Pittsburgh
Apply now »