Location: Sheetz Corporate - PITTSBURGH, PA
This position is open to remote if located in Pittsburgh, Columbus, Cleveland, North Carolina, or Maryland. Onsite if located within 50 miles of Claysburg, PA.

This Programmer works with the API/Integration team, end customers, architects, business and IT partners to design, develop and implement data integration solutions. The individual will build and maintain integrations for mission-critical business store and corporate environments and must be capable of understanding business requirements, working with end users, software development concepts and deploying code to support integration between platforms.

Candidate will be expected to have working knowledge and some experience with Relational Databases and SQL on platform such as: Oracle, SQL Server and Teradata; Data Quality/Integration, Business Intelligence, Reporting Tools (Tableau, Pentaho and SASS) and API development (i.e. MuleSoft).
PRIMARY PURPOSE OF THIS POSITION:

The Programmer provides technology solutions and supports major initiatives as assigned by Applications and Development management.

ESSENTIAL FUNCTIONS: (other duties may be assigned)
Initial and escalation resource for application projects, whether in production or in the development / implementation process.
Provide technical advice to less experienced discipline personnel.
Possess in-depth knowledge of one or more application projects, whether in production or in the development / implementation process.
Create and tune SQL queries as part of the application development process.
Create technical documentation for application development projects as defined by the Sheetz Applications and Development Agile Methodology SOP.
Stay up to date on the production technology solutions by attending related training and conferences as approved by management.
Provide development solutions using Sheetz approved development tools.
Provide evening and weekend "on call/issue" support as needed. Sheetz is open 24/7/365 and as such, our internal and external customers may require support at any time.
Comply with the Sheetz adopted agile and secure coding development methodologies. Refer to the Sheetz Applications and Development Agile Methodology SOP.

REQUIREMENTS: (Equivalent combinations of education, licenses, certifications and/or experience may be considered)

Education
A four-year degree in Computer Science, Management Information Systems, Computer Engineering; or a four year degree in another field of study which includes courses in computer programming, systems analysis, system development, or systems engineering is preferred.
Experience
5 years of applicable experience in an application development environment.
Licenses/Certifications
One or more of the following certifications is preferred:

Agile Scrum Master certification
Agile Certified Practitioner (PMI-ACP) or similar certification
Certification in a specific Development methodology
ABOUT SHEETZ
Sheetz, Inc. is a fast-growing, family-owned, food/convenience company that has been in business since 1952. Sheetz has over 600 locations in Pennsylvania, Ohio, Virginia, West Virginia, Maryland and North Carolina.

Our mission at Sheetz has been to meet the needs of customers on the go. Of course, things have changed over those nearly 70 years. Life is faster and busier, and customers expect us to be there when they need us most. One thing that hasn't changed is our commitment to our customers, our employees and the communities in which we operate. Sheetz donates millions of dollars every year to the charities it holds dear.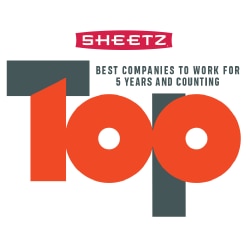 Nearest Major Market: Pittsburgh
Apply now »