Send me alerts every days
Innovation Research Manager
Location: Sheetz Corporate - PITTSBURGH, PA
PRIMARY PURPOSE OF THIS POSITION:
Sheetz's vision is to put the Sheetz of today out of business, and this position will be a key expert participant in the company's transformational innovation efforts through our Incubator program. The Innovation Incubator will add sustainable growth and profitability to Sheetz by transforming the market by 10x, through developing market-based opportunities to enhance or disrupt the needs of the convenience-demanding customer.

The Consumer Research Innovator will provide significant impact to the Incubator through driving a customer-centric concept development approach to innovation, where the customer's voice is at the center of designing and developing new business opportunities for Sheetz. This is a crucial role in the application of Human-Centered Design, which is the driving methodology used by the Incubator.

ESSENTIAL FUNCTIONS: (other duties may be assigned)
Innovation:
Contribute to the execution of the Innovation strategy as established by the business.
Work collaboratively with a multi-disciplinary team to deliver expected results of the Incubator.
Leverage technical expertise to contribute to concept development and execution.
Actively participate in innovation processes on behalf of the Incubator and the company, including leading efforts to integrate technical expertise to the processes where appropriate.
Work collaboratively with stakeholders across the company to integrate innovation concepts into the business and ensure successful implementation and realization.
Foster a culture of innovation and learning within the incubator and across the organization.
Foster relationships outside of the company to introduce new avenues towards innovation development.


Technical:
Establish research strategies and conduct studies using a variety of qualitative and quantitative methods to be implemented by the Incubator.
Manage consumer panels, screening and recruiting for all research initiatives on behalf of the Incubator.
Develop and manage strategic research deliverables, focused on visually telling the story and identifying actionable insights on behalf of the Incubator.
Design and manage early-stage design and product definition activities, including field studies and contextual research, interviews, personas, workshops, focus groups, etc. on behalf of the Incubator.
Engage in collaborative sessions with other team members to translate research results into personas, prototypes, usage scenarios and workflows.
Constantly monitor the "research space" to identify new, relevant innovation research techniques, tools, etc.
Develop relationships in professional research to procure additional support for research functionality within Sheetz or through outside relationships as required.

REQUIREMENTS: (Equivalent combinations of education, licenses, certifications and/or experience may be considered)

Education
Bachelor's degree in Qualitative research, Consumer research or related field required.
MBA or master's degree in related field preferred.
Experience
5-7 years' experience in consumer research required.
Minimum 3 years' experience facilitating structured discussions with consumers required.
Focus Group Moderator experience required.
Survey developing process required
Experience with Design thinking methodology or other innovation frameworks preferred.
Prior experience in organizational process improvement, change management, innovation or related area preferred.
Licenses/Certifications
Qualitative Research Proficiency Certification
Design Thinking Certification preferred
Tools & Equipment (Other than general office equipment):
General Office Equipment

3-D printer
ABOUT SHEETZ
Sheetz, Inc. is a fast-growing, family-owned, food/convenience company that has been in business since 1952. Sheetz has over 600 locations in Pennsylvania, Ohio, Virginia, West Virginia, Maryland and North Carolina.

Our mission at Sheetz has been to meet the needs of customers on the go. Of course, things have changed over those nearly 70 years. Life is faster and busier, and customers expect us to be there when they need us most. One thing that hasn't changed is our commitment to our customers, our employees and the communities in which we operate. Sheetz donates millions of dollars every year to the charities it holds dear.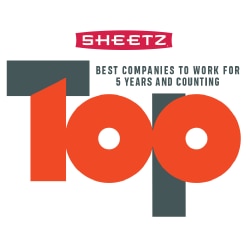 Nearest Major Market: Pittsburgh
Apply now »