Innovation Operations Manager - Pittsburgh, PA
Location: Sheetz Corporate - PITTSBURGH, PA
Sheetz, Inc. is a fast-growing, family-owned, food/convenience company that has been in business since 1952. Sheetz has over 600 locations in Pennsylvania, Ohio, Virginia, West Virginia, Maryland and North Carolina. 
At Sheetz, we continue to reinvent ourselves and bring innovation to our industry. In fact, our Vision is to create the business that will put Sheetz, as we know it today, out of business. The Sheetz Incubator supports this vision by developing market-based opportunities to enhance, or disrupt the needs of the convenience-demanding customer.
WHAT YOU WILL DO
The Innovation Manager – Operations, will ensure the Incubator operations run efficiently through concept management, resource management and project management. You will play a key role in the application of Innovation methodology such as Human-Centered Design and LEAN Startup, and other key methodology used by the Incubator.
This role ensures the tools, processes, and day-to-day coaching or team support needed are for the incubator to carry out its mission to launch innovation concepts enable the success of incubator teams and projects.
INNOVATION:
Contribute to the execution of the Innovation strategy as established by the business.

Work collaboratively with a multi-disciplinary team to deliver expected results of the Incubator.

Leverage technical expertise to contribute to concept development and execution.

Actively participate in innovation processes on behalf of the Incubator and the company, including leading efforts to integrate technical expertise to the processes where appropriate.

Work with key stakeholders to establish best practices around innovation processes, dependable concept hand-off and integrated project plans for utilizing expertise, information and functionality.

Work collaboratively with internal and external stakeholders as appropriate, to execute or integrate innovation concepts and ensure successful implementation and realization.

Foster a culture of innovation and learning within the incubator and across the organization.

Foster relationships outside of the company to introduce new avenues towards innovation development.
TECHNICAL
Working with the Chief Innovation Officer, develop and support an innovation methodology for ensuring the progression from idea to scalable business.

Manage the innovation concept pipeline, guiding all concepts throughout the development pipeline/concept lifecycle: Creation / Approval; Monitoring / Adjustments to Plan / Reporting; Implementation / Acceptance; Closure / Post Mortem Reviews

Drive work flow of assigned teams to ensure that the Innovation Process is followed; that documentation is gathered, written, and published as needed.

Manages Stakeholder relationships and collaboration across all concepts within the pipeline

Engage in collaborative sessions with other team members to integrate project management into concept development processes and workflows.
WHAT EXPERIENCE YOU WILL BRING
(Equivalent combinations of education, licenses, certifications and/or experience may be considered)
EDUCATION
Bachelor's degree in business, marketing or related field required.
MBA or graduate degree preferred.
EXPERIENCE
Minimum 5 years' experience in innovation, R&D, or product development required.

Minimum 5 years of experience in project management, with demonstrated project successes required.

Experience with Design thinking methodology or other innovation frameworks required.

Experience managing cross-functional teams preferred.

Experience with PMP or ITIL Project Management techniques is preferred.

Minimum of two years as a coach of others using Design Thinking or another established innovation methodology preferred.
LICENSES/CERTIFICATIONS
PMP or similar certification preferred.
Formal Design Thinking training and/or certification preferred.
TOOLS & EQUIPMENT
General Office Equipment
If you know how to use a 3-D printer, great!
ABOUT SHEETZ
Sheetz, Inc. is a fast-growing, family-owned, food/convenience company that has been in business since 1952. Sheetz has over 600 locations in Pennsylvania, Ohio, Virginia, West Virginia, Maryland and North Carolina.

Our mission at Sheetz has been to meet the needs of customers on the go. Of course, things have changed over those nearly 70 years. Life is faster and busier, and customers expect us to be there when they need us most. One thing that hasn't changed is our commitment to our customers, our employees and the communities in which we operate. Sheetz donates millions of dollars every year to the charities it holds dear.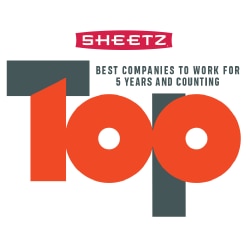 Nearest Major Market: Pittsburgh
Apply now »