IT Senior Monitoring Systems Administrator - Pittsburgh, PA
Location: Sheetz Corporate - PITTSBURGH, PA

 

PRIMARY PURPOSE OF THIS POSITION:

The Senior Monitoring Systems Administrator is responsible for integrating monitored systems' data into their respective monitoring systems; maintaining the monitoring systems; and for turning monitored data into beneficial and actionable information, and predictive warnings and alerts. The Sr. Monitoring Systems Administrator also serves as a system owner and technical lead for his/her assigned monitoring system(s) with responsibility for defining and supporting desirable, feasible, viable, and sustainable systems that satisfy key stakeholders' needs.

ESSENTIAL FUNCTIONS: (other duties may be assigned)
Responsible for the availability, latency, performance, effectiveness, change management, and capacity planning for assigned monitoring system(s).
Serves as a mentor to less-experienced monitoring system administrators and acts as the highest-level resource for answers to monitoring system questions.
Collaborates with business and technical stakeholders, SREs, and management to review, scope, design, develop and implement data flows, health rules, policies, dashboards/reports/alerts, and monitoring apps to meet business needs.
Develops and administers scripts to support and maintain data flows within monitoring systems.
Develops and administers system upgrade processes and scripts to keep systems up to date in an efficient manner.
Serves as the data steward for monitoring systems' data to include data transformations, extractions and formatting.
Works directly with vendor support and third-party resources to ensure prompt and effective development, and incident and problem resolution.
Collaborates with key monitoring system users to manage system resources and license utilization.
Provides evening and weekend support to the team as needed. Sheetz is open 24/7/365 and, as such, our internal and external customers may require support at any time.
REQUIREMENTS:
(Equivalent combinations of education, licenses, certifications and/or experience may be considered)
Education
A four-year degree in Computer Science, Management Information Systems, Computer Engineering; or a four year degree in another field of study which includes courses in computer programming, systems analysis, system development, or systems engineering; is preferred.
Experience
7 years of applicable experience in a technology environment with exposure to infrastructure and applications is required.
Ability to write xml at a moderate to high level is required.
Ability to read and write moderate SQL statements is required.
Ability to develop one or more of the following: Bash shell, PowerShell, Python, ADQL and/or JavaScript is required.
Exposure to Linux OS and components, including systemctl and crontab, is required.
Licenses/Certifications
Tools & Equipment
ABOUT SHEETZ
Sheetz, Inc. is a fast-growing, family-owned, food/convenience company that has been in business since 1952. Sheetz has over 600 locations in Pennsylvania, Ohio, Virginia, West Virginia, Maryland and North Carolina.

Our mission at Sheetz has been to meet the needs of customers on the go. Of course, things have changed over those nearly 70 years. Life is faster and busier, and customers expect us to be there when they need us most. One thing that hasn't changed is our commitment to our customers, our employees and the communities in which we operate. Sheetz donates millions of dollars every year to the charities it holds dear.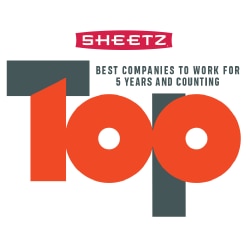 Nearest Major Market: Pittsburgh
Apply now »