Experimentation Manager - Pittsburgh, PA
Location: Sheetz Corporate - PITTSBURGH, PA

 

PRIMARY PURPOSE OF THIS POSITION:

Establishes and manages experimentation processes and projects on behalf of the organization and as guided by the Sheetz Strategy. Incorporates distinct best practices to the entire company capability portfolio, designing and launching new processes and tools for successful experimentation. Enables the core business innovation capabilities, including planning and managing the test and learn processes.

ESSENTIAL FUNCTIONS: (other duties may be assigned)
Responsible for managing all testing that will go through the cafes and those defined through the Offer of the Future strategic initiative for sustainable medium-term innovation.
Ensures that the projects being tested have clear potential value to deliver back to the business.
Responsible for establishing the expert procedures, policies and parameters of testing and experimentation.
Develop best practices and processes to be used across the organization in any testing atmosphere, such as Ops/Marketing Test districts, R&D Sandbox, or IT test stores.
Maintain the centralized R&D budget (separate from decentralized R&D budgets) as established by the overall company. Experimentation will have a clear identity, plan and purpose that is visible to the entire organization.
Serve as an internal consultant on running experiments and have ownership over the testing process and interpretation of results.
Contribute to the priority-setting by helping to clarify the potential benefit, costs and milestones of the projects.
Use scientific method to objectively and agnostically evaluate success or failure by only launching clearly defined experiments. Expert processes will be established, and projects will proceed when they have established clear criteria, timelines, test durations, "fail quick" points, resources, scalability, and metrics.
Work with the Café Management Team to balance top-down and bottom-up testing. Implement methods to capture and disseminate learnings across the company and towards future experiments.
Help the company to embrace a learning culture and understand the value in failure. Create an environment where the company and the cafés will be excited to experiment, fail, and learn, which will support innovation within the cafés and the company as a whole.
REQUIREMENTS:
(Equivalent combinations of education, licenses, certifications and/or experience may be considered)
Education
Bachelor's degree in engineering, technical, management, or business related field required.
MBA or an advanced degree preferred.
Experience
Minimum 5 years demonstrated expertise in project management, leading teams, organizational process improvement, change management, and innovation or related area required.
Licenses/Certifications
Six sigma certification preferred
International Institute of Business Analysis certification preferred
Tools & Equipment
ABOUT SHEETZ
Sheetz, Inc. is a fast-growing, family-owned, food/convenience company that has been in business since 1952. Sheetz has over 600 locations in Pennsylvania, Ohio, Virginia, West Virginia, Maryland and North Carolina.

Our mission at Sheetz has been to meet the needs of customers on the go. Of course, things have changed over those nearly 70 years. Life is faster and busier, and customers expect us to be there when they need us most. One thing that hasn't changed is our commitment to our customers, our employees and the communities in which we operate. Sheetz donates millions of dollars every year to the charities it holds dear.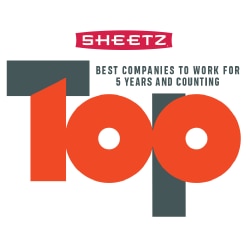 Nearest Major Market: Pittsburgh
Apply now »