Send me alerts every days
Associate Programmer - Pittsburgh, PA
Location: Sheetz Corporate - PITTSBURGH, PA
Location: Pittsburgh, PA
Hours: Full Time Permanent
PRIMARY PURPOSE OF THIS POSITION:

The Sheetz IT Applications and Development Department is seeking an Associate Programmer to join our team at our Technology & Innovation Hub in Bakery Square Pittsburgh, PA. The successful candidate for this position will become part of a project team focused on the development of new applications in a timely fashion as requested by other areas of the business.
The ideal candidate will have exposure to several of the following technologies:
* Java 8+
* AngularJS / Angular 2 / Vue.js
* Jasmine / Karma
* JavaScript / Typescript
* HTML / CSS
* SQL
* MyBatis
* Flyway
* JUnit / Mockito
* Retrofit
* Log4j / Logback / SLF4j
* AMQP messaging using Rabbit MQ
* Spring / Spring Boot
* Apache Maven / Gradle
* Subversion / Git / GitLab
* Jenkins
* Artifactory
In addition, candidates should:
* understand the Agile Software Development methodology
* have knowledge and understanding of secure coding practices
* understand the different layers of application architecture (service, resource, logging, testing, etc.)
* have exposure to API-first methodologies like OpenAPI / Swagger for building REST API designs
* have familiarity with the concept of micro-services
* have exposure to Relational Databases like MS SQL, H2, MySQL, or Oracle
* have familiarity with web servers like Apache Tomcat and Apache Web Server
* possess a basic understanding of the Red Hat Linux operating system

ESSENTIAL FUNCTIONS: (other duties may be assigned)
Initial resource for application projects, whether in production or in the development / implementation process.

Possess basic knowledge of one or more applications projects, whether in production or in the development / implementation process.

Create basic SQL queries as part of the application development process.

Create technical documentation for application development projects as defined by the Sheetz Applications and Development Agile Methodology SOP.

Stay up to date on the production technology solutions by attending related training and conferences as approved by management.

Provide development solutions using Sheetz approved development tools.

Provide evening and weekend "on call/issue" support as needed. Sheetz is open 24/7/365 and as such, our internal and external customers may require support at any time.

Comply with the Sheetz adopted agile and secure coding development methodologies. Refer to the Sheetz Applications and Development Agile Methodology SOP.

REQUIREMENTS: (Equivalent combinations of education, licenses, certifications and/or experience may be considered)

Education
A four-year degree in Computer Science, Management Information Systems, Computer Engineering; or a four year degree in another field of study which includes courses in computer programming, systems analysis, system development, or systems engineering is preferred.
Experience
Licenses/Certifications
None
ABOUT SHEETZ
Sheetz, Inc. is a fast-growing, family-owned, food/convenience company that has been in business since 1952. Sheetz has over 600 locations in Pennsylvania, Ohio, Virginia, West Virginia, Maryland and North Carolina.

Our mission at Sheetz has been to meet the needs of customers on the go. Of course, things have changed over those nearly 70 years. Life is faster and busier, and customers expect us to be there when they need us most. One thing that hasn't changed is our commitment to our customers, our employees and the communities in which we operate. Sheetz donates millions of dollars every year to the charities it holds dear.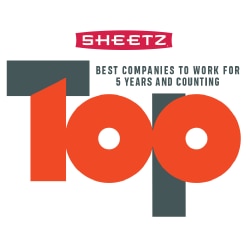 Nearest Major Market: Pittsburgh
Apply now »