Equipment Service Technician - Hilliard, OH
Location: Sheetz Corporate - HILLIARD, OH
Salary $55,000 - $100,000 (inclusive of base wages, projected overtime, and projected bonus)
Shift: This is a daylight position working from 5am-3pm and every other weekend.
Sheetz Store Support is hiring Equipment Service Technicians to join our World Class maintenance team. Our technicians maintain and repair all store equipment and execute all environmental compliance programs, complete scheduled preventative maintenance tasks, and perform all assigned maintenance activities in order for the stores to continue providing total customer focus to our customers.
We are looking for dedicated & skilled individuals who have an excellent technical and mechanical knowledge of specific hardware and devices in order to keep our stores running 24/7, 365 days a year. With on-the-job training and specialized training centers you will become an authorized service provider for some of the biggest names in the HVAC and Restaurant Equipment industry, just to name a few:
Lennox
Bev-Air            
York
Gilbarco Veeder-Root   
True    
Captive Air
Hil Phoenix      
Lancer 
NCR
Amana
Bunn
We pride ourselves on providing one of the best benefit packages around, including:
4-day work week        
3 weeks Paid Time Off (after first 30 days of employment)
Medical/ Dental/ Vision
Quarterly Bonus          
401K & Employee Stock Ownership    
Uniform & Boot Allowance
Company Provided Tools & Supplies    
Career Path and Promotions
WHAT YOU WILL DO:
Maintain store equipment, HVAC, refrigeration, petroleum equipment and overall facility in good working order. Troubleshoot, diagnose issues and make repairs to equipment according to established procedures to minimize parts usage.
Complete scheduled and assigned preventative maintenance of all store equipment.
Complete scheduled and assigned washing and cleaning of store's windows.
Communicate issues and provide feedback to the Facility Support Manager regarding maintenance issues, facility/equipment opportunities and outside service vendor performance.
Utilize maintenance work order system to complete repair calls, close completed calls, enter resolutions for calls and update calls according to company policies and procedures. Complete assigned work by required deadline. Respond to high priority calls according to company guidelines.
Maintain fully stocked inventory and be accountable for all aspects of assigned inventory; assist in monitoring and control of maintenance inventory. Requisition parts necessary to complete the job. Provide technical information to ordering team ensuring proper delivery and ordering of all non-stock parts.
Attend and participate in all work related meetings, scheduled inventories and training classes. Maintain all certifications as required by manufacturers and local/state/federal law.
Maintain company vehicle and adhere to all state/local/federal laws and company policies regarding operation and maintenance of company vehicle.
All other tasks assigned by management.

WHAT YOU WILL BRING: (Equivalent combinations of education, licenses, certifications and/or experience may be considered)

Education
High School Diploma/GED required
Technical / Trade training / Sheetz training preferred
Experience
No Experience required with a trade education
2 years related experience preferred
At least 1 years' experience in HVAC, electrical, mechanical or a related trade required
Licenses/Certifications
Valid Driver's license required
Universal 608 EPA certification preferred or the successful obtainment in timeframe defined by management
Availability
Must be available to work beyond usual end time on occasion to complete jobs
Must be available to work every other Saturday and Sunday
Must be available to work holidays when holiday falls on a regularly scheduled work day.
Must be available to be "On Call" and respond to emergency calls a minimum of 58 scheduled days per year.
ABOUT SHEETZ
Sheetz, Inc. is a fast-growing, family-owned, food/convenience company that has been in business since 1952. Sheetz has over 600 locations in Pennsylvania, Ohio, Virginia, West Virginia, Maryland and North Carolina.

Our mission at Sheetz has been to meet the needs of customers on the go. Of course, things have changed over those nearly 70 years. Life is faster and busier, and customers expect us to be there when they need us most. One thing that hasn't changed is our commitment to our customers, our employees and the communities in which we operate. Sheetz donates millions of dollars every year to the charities it holds dear.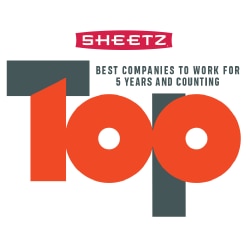 Nearest Major Market: Columbus
Nearest Secondary Market: Dublin
Apply now »