Multi-Store Supervisor - #469 - Evenings
Location: Sheetz Stores #00469 - 3299 RITNER HIGHWAY  NEWVILLE, PA

Starting Rate of Pay: $20.00
Additional $1.50/hr. for working 10pm-6am

Full or Part Time: Full Time
Shift Needed: Evenings

 

 


MULTI-STORE FLEX SUPERVISOR

If you enjoy change and connect easily with new people, then you would be a GREAT fit for our Multi-Store Flex Supervisor position. In this role, you will be essential in creating a positive work culture across multiple stores in an assigned district.

As a Multi-Store Flex Supervisor, you will put your leadership skills to work with several store teams to engage customers with hospitality in all aspects of their experience at Sheetz. When you are here you can do more! You can grow in your skillset engaging in many facets of the store including sales, food preparation & customer service. Be a part of our growing company by bringing your ambition to our already high-energy atmosphere.

Sheetz values YOU. We have benefits & growth opportunities abound. We happily offer our employees full medical & dental insurance, food & drink discount, employee bonuses and more!

Did we mention this position has set schedules AND every other weekend off? You can jump down and hit that apply button now!

PRIMARY PURPOSE OF THIS POSITION:

Responsible for traveling to multiple Sheetz store locations within assigned district to provide coverage for pre-planned and call off absences of store management and store team members.

ESSENTIAL FUNCTIONS: (other duties may be assigned)
Drive store performance by delegating tasks, and holding employees accountable for execution of operational and customer service standards.
Train and mentor employees in skills and behaviors necessary to deliver a consistent, positive customer experience, and provide feedback to the General Manager on employee performance.
Contribute to a positive store culture by role modeling the Sheetz Performance Standards when communicating and interacting with management team, employees, and customers.
Provide excellent customer service by adhering to customer service standards and resolving customer complaints in a timely manner.
Adhere to regulatory and compliance standards including food safety and employment practices.
Perform the duties of Store Team Members when providing coverage for store team member role.
Ability and willingness to travel from home store to assigned store on a frequent basis.
REQUIREMENTS:
(Equivalent combinations of education, licenses, certifications and/or experience may be considered)
Education
High School Diploma or equivalent preferred
Successful completion of the Sheetz Team Member training program required
Experience
One year experience in food and beverage operations or retail environment or six months experience as a Sheetz Team Member preferred
Licenses/Certifications
Successful completion of food safety and alcohol safety certifications required for the store's operating area (Food safety and alcohol safety certification requirements are based on local regulations for a store's operating area.) Food safety and alcohol safety training and certification will be scheduled for completion during training for the position. Employees are required to successfully complete the training and receive the appropriate certification within their first six months.

NOTE: Trainees in North Carolina, West Virginia, Maryland, and Allegheny County of PA may not be scheduled as the only ServSafe certified manager on duty until they have successfully completed ServSafe certification.
Tools & Equipment
MTO/SBC appliances and equipment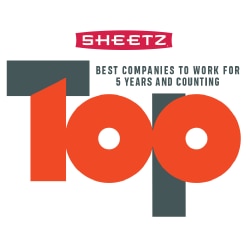 Nearest Major Market: Harrisburg
Job Segment: Retail
Apply now »