Location: Sheetz Corporate - Martinsburg, PA

 

PRIMARY PURPOSE OF THIS POSITION:

Conduct safe flight operations with final authority in the operation of the aircraft when assigned as Pilot In Command (PIC or Captain). Perform various other non-flying tasks which benefit the Aviation Department purpose and Total Customer Focus.

ESSENTIAL FUNCTIONS: (other duties may be assigned)
Act as Pilot In Command (PIC) or Second in Command (SIC) of flights as assigned in compliance with Federal, State, Local, and foreign regulations, as well as policies and procedures contained in the company Operations Manual.
Complete regular training and proficiency in accordance with Federal Aviation Regulations, insurance requirements, and company policy.
Provide excellent Customer Service (Total Customer Focus) to passengers.
Ensure completion of all record keeping and paperwork as required by company policy.
Complete assigned administrative duties. May include: update databases and revisions; conduct flight checks; perform pilot orientations/training; oversee Safety management.
Assist in cleaning, provisioning, fueling, and ground handling of department aircraft.
REQUIREMENTS:
(Equivalent combinations of education, licenses, certifications and/or experience may be considered)
Education
2 year degree from Accredited College/University preferred but not required
Experience
Minimum of 4 years as Pilot In Command of multi engine turbine aircraft operating in a crew environment.
Licenses/Certifications
Airline Transport Pilot Certificate with appropriate ratings and limitations, or equivalent experience.
FCC Restricted Radiotelephone Operators Permit or higher.
Must maintain current Second Class FAA Medical Certificate or higher.
Current Passport
3,000 hours Total time

1,500 PIC Turbine/ME (multi-engine)

B300 type rating - King Air preferred
Tools & Equipment
ABOUT SHEETZ
Sheetz, Inc. is a fast-growing, family-owned, food/convenience company that has been in business since 1952. Sheetz has over 600 locations in Pennsylvania, Ohio, Virginia, West Virginia, Maryland and North Carolina.

Our mission at Sheetz has been to meet the needs of customers on the go. Of course, things have changed over those nearly 70 years. Life is faster and busier, and customers expect us to be there when they need us most. One thing that hasn't changed is our commitment to our customers, our employees and the communities in which we operate. Sheetz donates millions of dollars every year to the charities it holds dear.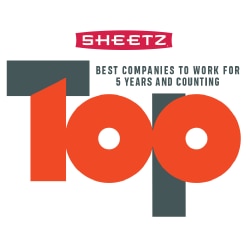 Nearest Major Market: Altoona
Nearest Secondary Market: Johnstown
Apply now »