Loss Investigation Security Agent - Moxham, PA
Location: Sheetz Corporate - JOHNSTOWN, PA
PRIMARY PURPOSE OF THIS POSITION:

Provide on-site physical security, deter loitering and prevent shoplifting to ensure Sheetz stores are safe for both employees and customers.

ESSENTIAL FUNCTIONS: (other duties may be assigned)
Act as a physical security presence by patrolling and monitoring activities on the company's premises regularly to discourage criminals and ensure the environment is safe and secure.
Ensure a safe environment for customers and employees and assist stores in the reduction of company shrink.
Regularly meet with local area police/law-enforcement regarding area challenges, then update the area Loss Investigation Supervisor in order to create a more secure store for employees and customers.
Observe and report safety and physical security concerns. Complete all physical security tasks as assigned by the Loss Investigation Supervisor in your area.
Create a positive working relationship with all assigned SOC and LIT personnel.
Create a positive working relationship with all assigned non-Sheetz guard personnel.
Ensure that Total Customer Focus is part of all duties and interactions.
When directed, assist with assigned loss investigation duties.
Prevent shoplifting to ensure Sheetz stores are safe for both employees and customers.

REQUIREMENTS: (Equivalent combinations of education, licenses, certifications and/or experience may be considered)

Education
High School Diploma/GED
Associate's Degree preferred
Experience
2 years' experience as a security guard, in loss prevention, or related field required.
Licenses/Certifications
Valid Driver's License required.
CPR/First Aid Certified required (must be completed within 15 days of starting the position.
Tools & Equipment
Hours
Traditional hours 8:00PM to 4:00AM - hours can vary depending on operational needs.
ABOUT SHEETZ
Sheetz, Inc. is a fast-growing, family-owned, food/convenience company that has been in business since 1952. Sheetz has over 600 locations in Pennsylvania, Ohio, Virginia, West Virginia, Maryland and North Carolina.

Our mission at Sheetz has been to meet the needs of customers on the go. Of course, things have changed over those nearly 70 years. Life is faster and busier, and customers expect us to be there when they need us most. One thing that hasn't changed is our commitment to our customers, our employees and the communities in which we operate. Sheetz donates millions of dollars every year to the charities it holds dear.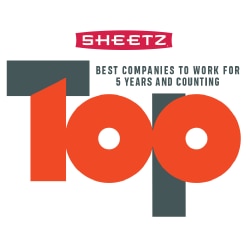 Nearest Major Market: Johnstown
Job Segment: Loss Prevention, Retail
Apply now »