Assistant Safety Manager - Columbus, OH
Location: Columbus, OH
Schedule: Travel around the Columbus area a minimum of 3 days per week and 2 days per week working remotely
PRIMARY PURPOSE OF THIS POSITION:

Support the safety initiatives of the Safety Manager. The position requires the ability to recognize, evaluate and eliminate/control all industrial/construction risks through technical knowledge and expertise, while at the same time promoting a positive safety culture. This individual will have to be highly motivated, able to work without onsite supervision and have the ability to work closely with other members of the Sheetz Team.

ESSENTIAL FUNCTIONS: (other duties may be assigned)
Develop, implement and maintain safety programs for responsible business unit(s)
Develop, schedule, perform, document, maintain and track safety training for responsible business unit(s)
Effectively communicate with Sheetz employees and contractors to instill a proactive safety culture
Lead and perform presentations in safety committees/meetings
Develop and implement safety observation programs
Assist in maintaining compliance registers and logs
Develop, implement and maintain near miss/incident investigation programs for responsible business unit(s)
Provide management with multiple compliance based solutions to resolve safety issues
Coordinate and/or perform industrial hygiene sampling
Participate in all applicable insurance and regulatory inspections, and assist in closure

REQUIREMENTS: (Equivalent combinations of education, licenses, certifications and/or experience may be considered)

Education
4 year degree in safety science or safety engineering is required.
Experience
2 years safety experience in construction and general industry required.
Licenses/Certifications
Tools & Equipment
ABOUT SHEETZ
Sheetz, Inc. is a fast-growing, family-owned, food/convenience company that has been in business since 1952. Sheetz has over 600 locations in Pennsylvania, Ohio, Virginia, West Virginia, Maryland and North Carolina.

Our mission at Sheetz has been to meet the needs of customers on the go. Of course, things have changed over those nearly 70 years. Life is faster and busier, and customers expect us to be there when they need us most. One thing that hasn't changed is our commitment to our customers, our employees and the communities in which we operate. Sheetz donates millions of dollars every year to the charities it holds dear.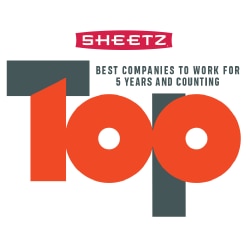 Nearest Major Market: Columbus
Apply now »