Petroleum Project Manager - Columbus, OH
Location: Sheetz Corporate - GAHANNA, OH

 

PRIMARY PURPOSE OF THIS POSITION:

Responsible for procurement of Dispenser Canopy & UST System Installation plans and permits for New Stores, Rebuilds, Remodels, Brand Refreshes and upgrades of existing locations.

ESSENTIAL FUNCTIONS: (other duties may be assigned)
Procure, and assemble and upload dispenser canopy plans with other pertinent information to complete bid packages, permitting processes, installation documents, etc. for new locations, and rebuilds and remodels/conversions of existing locations.
Manage the Engineering Consultant creating the UST System/Installation plans that are utilized in obtaining permit approvals, for competitive bidding, and construction. Review plans for accuracy, upload to project management software and track and approve vendor invoicing.
As assigned, manage Petroleum rollouts and electric vehicle charging installations utilizing resources from assigned zones to insure all work is being performed in accordance with all Sheetz Inc, Federal and Safety standards.
Provide input and support pertaining to UST system equipment selection, system design and project SOW / layout, operation for optimum performance, and access to lower installation costs. Provide SOW and budget estimates, in assigned areas, related to UST system projects, upgrades and rollouts.
Provide support and training related to UST system operation, equipment installation, and best practices to the construction group to ensure first class and high quality system installations.
Stay current with existing and proposed Federal, State, and Local regulations in our six state footprints.
Responsible for completion, submittal, and retention of record file(s) for plans, permits and applications on a federal, state and/or local level required to ensure construction activities and system operation are completed per schedule, and regulatory compliance of AHJ for assigned areas.
REQUIREMENTS:
(Equivalent combinations of education, licenses, certifications and/or experience may be considered)
Education
High School diploma required
Associate degree in Construction Management, Project Management, Environmental Science or related field preferred
Experience
Minimum 3 years' experience with UST System installation, design, equipment & components, and system operation required.
Minimum 5 years' experience in managing multiple projects required.
Licenses/Certifications
Regulatory and Manufacturer certifications for installation and/or removal of UST Systems required.
ABOUT SHEETZ
Sheetz, Inc. is a fast-growing, family-owned, food/convenience company that has been in business since 1952. Sheetz has over 600 locations in Pennsylvania, Ohio, Virginia, West Virginia, Maryland and North Carolina.

Our mission at Sheetz has been to meet the needs of customers on the go. Of course, things have changed over those nearly 70 years. Life is faster and busier, and customers expect us to be there when they need us most. One thing that hasn't changed is our commitment to our customers, our employees and the communities in which we operate. Sheetz donates millions of dollars every year to the charities it holds dear.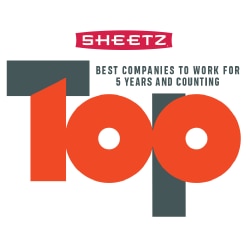 Nearest Major Market: Columbus
Apply now »