Send me alerts every days
Site Superintendent & Construction Manager - Columbus OH
Location: Sheetz Corporate - GAHANNA, OH

This position reports to the Columbus OH region and requires travel.
PRIMARY PURPOSE OF THIS POSITION:

Manage the construction onsite at new and existing Sheetz Retail Stores, including renovations, remodels and major repairs of existing facilities.

ESSENTIAL FUNCTIONS: (other duties may be assigned)
Verify all construction work to insure work is being performed in accordance with Sheetz Construction Documents, civil and architectural plans and specifications and all applicable local, state and federal code requirements.
Schedule, coordinate and document construction inspection activities with state and local inspection agencies as required.
Manage and inspect multiple construction projects on a daily basis to insure Contractor compliance to all Sheetz Inc, State, and Federal Safety standards.
Prepare scopes of work, solicit for proposals, and execute contracts for signatures for smaller construction projects, HVAC/Refrigeration, or petroleum installations.
Schedule, conduct and document weekly project meetings of Contractor safety, quality, schedule and cost. Review, approve and process Contractor invoices and obtain Waivers of Lien as well as managing the contract change order process.
Manage Petroleum underground storage tank (UST) installations and repairs.
Create as-built drawings for all underground utilities, take weekly progress photos and complete daily log reports
Provide schedule updates and feedback for assigned projects at monthly project review meetings.

REQUIREMENTS: (Equivalent combinations of education, licenses, certifications and/or experience may be considered)

Education
High School diploma required
Associate Degree in Construction Management or related Field
Experience
Minimum 1 year management / supervisory experience required.
Minimum 3 years commercial construction management / Superintendent site management experience required
Licenses/Certifications
Valid Driver's License CPR/First Aid/ OSHA 40 Hour
Other Requirements
Overnight stay required M-F at assigned project sites in the states of PA, OH, MD, NC, VA, WV.
ABOUT SHEETZ
Sheetz, Inc. is a fast-growing, family-owned, food/convenience company that has been in business since 1952. Sheetz has over 600 locations in Pennsylvania, Ohio, Virginia, West Virginia, Maryland and North Carolina.

Our mission at Sheetz has been to meet the needs of customers on the go. Of course, things have changed over those nearly 70 years. Life is faster and busier, and customers expect us to be there when they need us most. One thing that hasn't changed is our commitment to our customers, our employees and the communities in which we operate. Sheetz donates millions of dollars every year to the charities it holds dear.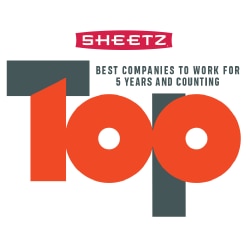 Nearest Major Market: Columbus
Apply now »