Store Solutions Technical Support Representative
Location: Sheetz Corporate - Claysburg, PA
Schedule:
Option 1: Friday: 8A-1P, Saturday/Sunday: OFF, Monday-Thursday 8A-1P
Option 2: Friday: 12P-5P, Saturday/Sunday: OFF, Monday-Thursday 12P-5P
Option 3: Friday: 2P-7P, Saturday/Sunday: OFF, Monday-Thursday 2P-7P
Option 4: Friday: 4P-9P, Saturday/Sunday: OFF, Monday-Thursday 4P-9P
PRIMARY PURPOSE OF THIS POSITION:

Answer incoming calls from store level to analyze, troubleshoot and resolve technology and equipment issues.

ESSENTIAL FUNCTIONS: (other duties may be assigned)
Provide first line technical support for technology hardware and software and troubleshoot maintenance equipment issues at store level.
Route store level inquires to specific corporate departments who can take action on issues and/or answer questions appropriately.
Monitor, evaluate and analyze system alarms via Device Monitoring applications. Create calls and dispatch technicians as necessary.
Identify and escalate priority issues.
Review and recommend modifications to procedures and processes to Management team.
Coordinate service with Facility Support Technicians, Field Technicians and Dispatch Specialists to address equipment issues at store level.
Contact outside service providers to handle issues as deemed necessary.
Use reports and technology as a tool to ensure issues are resolved.
Provide on-the-job to new employees.

REQUIREMENTS: (Equivalent combinations of education, licenses, certifications and/or experience may be considered)

Education
High School/GED/Sheetz Training
Experience
2 years Call Center or Help Desk Experience
Licenses/Certifications
ABOUT SHEETZ
Sheetz, Inc. is a fast-growing, family-owned, food/convenience company that has been in business since 1952. Sheetz has over 600 locations in Pennsylvania, Ohio, Virginia, West Virginia, Maryland and North Carolina.

Our mission at Sheetz has been to meet the needs of customers on the go. Of course, things have changed over those nearly 70 years. Life is faster and busier, and customers expect us to be there when they need us most. One thing that hasn't changed is our commitment to our customers, our employees and the communities in which we operate. Sheetz donates millions of dollars every year to the charities it holds dear.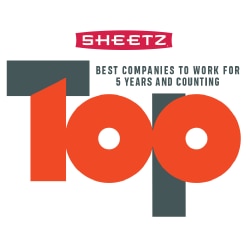 Nearest Major Market: Altoona
Nearest Secondary Market: Johnstown
Job Segment: Retail
Apply now »