Store Design Prototype Manager
Location: Sheetz Corporate - Claysburg, PA

Level: 12 

 

PRIMARY PURPOSE OF THIS POSITION:

Prepare, plan and manage Sheetz Store Design prototypes at a high level across design programs. Responsible for executing the master building plans including rolling updates and revisions. Organize and implement the 'template' building plans in a consistent, standardized manor.

ESSENTIAL FUNCTIONS: (other duties may be assigned)
Maximize the development of internal talent through regular performance coaching, performance reviews and presenting developmental opportunities.
Responsible for managing and maintaining Store Design Prototypes including construction drawings, design standards and specifications. Creation of master Construction Document package includes both record sets and working drawings for active prototype programs.
Leads the coordination of Prototype development across stakeholders, gathers documentation, and clearly communicating impacts throughout its drawing lifecycle. Manages and distributes written bulletins, field directives, prototype CD set revisions, CAD blocks, and other change management notices that impact Store Design drawings and construction.
Complete quality control/assurance of prototype documents for inclusion of design changes, consistency, errors / omissions, and brand standards.
Responsible for coordinating internal and external resources (A&E consultants, vendors, etc) involved with store prototyping. Coordinate with internal teams and outside consultants as required to successfully prepare and update prototype documents to meet Brand and Sales & Marketing changes, local jurisdictional requirements, and construction techniques.
Obtain and compile a record of change requests as received from Change Management leader/team and other stakeholders including Store Design Steering Committee and EC.
Maintain a comprehensive list of design updates and develop narratives to communicate the prototype directives and applicable design bulletins both internally and externally.
Actively balance schedules and deliverables while maintaining design objectives, scope and company goals.
Prepare and coordinate design initiatives as a creative process for prototype concepting, including but not limited to new prototype creation.
Manage consultants including vetting new vendors and consultants, negotiate bids & pricing, execute contracts and invoicing.
Perform site visits and construction observations for design standard compliance and implementation effectiveness.
REQUIREMENTS:
(Equivalent combinations of education, licenses, certifications and/or experience may be considered)
Education
Bachelor's degree in Design, Architecture or Building Engineering required
Experience
Minimum of 5 years in an Architecture and/or Engineering setting as a Job Captain, Project Lead, or equivalent required.
Retail prototype rollout experience required.
Minimum of 3 years supervisory experience required.
Experience maintaining accurate building plans, architectural drawings, planning tools (CAD blocks, baseplans, shop drawing and spec references) required.
Experience with building codes, materials, and systems in commercial construction required.
Licenses/Certifications
PE or registered Architect preferred.
Tools & Equipment
Hand tools (measuring devices, wrench, level, etc.)
ABOUT SHEETZ
Sheetz, Inc. is a fast-growing, family-owned, food/convenience company that has been in business since 1952. Sheetz has over 600 locations in Pennsylvania, Ohio, Virginia, West Virginia, Maryland and North Carolina.

Our mission at Sheetz has been to meet the needs of customers on the go. Of course, things have changed over those nearly 70 years. Life is faster and busier, and customers expect us to be there when they need us most. One thing that hasn't changed is our commitment to our customers, our employees and the communities in which we operate. Sheetz donates millions of dollars every year to the charities it holds dear.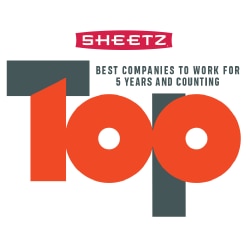 Nearest Major Market: Altoona
Nearest Secondary Market: Johnstown
Job Segment: Retail Design, Retail
Apply now »