Send me alerts every days
Senior Communications Specialist - Executives & Events
Location: Sheetz Corporate - Claysburg, PA

 

PRIMARY PURPOSE OF THIS POSITION:

Execute the strategy of the internal communications department; support the delivery of relevant, timely and targeted communications through internal communication channels (e.g. events, intranet support, presentations); support Executive communication needs (e.g. internal and external presentations, memos, blogs, video scripts, speeches).

ESSENTIAL FUNCTIONS: (other duties may be assigned)
Collaborate with the Internal Communications and Brand teams to enable effective communication that grows the strength of the Sheetz Brand.
Maintain ongoing understanding of business initiatives, event goals and strategies.
Integrate communication priorities by reviewing, assessing and coordinating all messaging objectives related to events and executive communication.
Align with event leadership on recommendations for strategic messaging and content.
Write all communications including copy, scripts, speeches, memorandums and messaging for a variety of events, presentations and communication vehicles. Often serve as the ghostwriter for Senior Executives, in addition to working with event and production consultants for event scripting.
Deliver clear and effective communication, coordinating with internal communications team to ensure message is relevant, timely and targeted.
Deliver strategic and effective messaging determined by the Executive and Event Planning Processes.
Provide recommendations to event team logistic partners to help them achieve timely, relevant and targeted communication to support employee engagement and event success.
Prioritize and Allocate Messaging – Utilize the communications planning process, to prioritize and allocate messaging to ensure internal communications content strategy is executed through effective event messaging.
Engage & Maintain Vehicles – Monitor, filter and moderate content to ensure event messaging is timely, relevant and targeted.
REQUIREMENTS:
(Equivalent combinations of education, licenses, certifications and/or experience may be considered)
Education
Bachelor's Degree in Communications, Journalism or related field required
Experience
Minimum of 3 years' experience in communication responsibilities or related field with at least one year of writing / editing experience required
Experience in event/script production and experience working with executives preferred
Licenses/Certifications
Tools & Equipment
ABOUT SHEETZ
Sheetz, Inc. is a fast-growing, family-owned, food/convenience company that has been in business since 1952. Sheetz has over 600 locations in Pennsylvania, Ohio, Virginia, West Virginia, Maryland and North Carolina.

Our mission at Sheetz has been to meet the needs of customers on the go. Of course, things have changed over those nearly 70 years. Life is faster and busier, and customers expect us to be there when they need us most. One thing that hasn't changed is our commitment to our customers, our employees and the communities in which we operate. Sheetz donates millions of dollars every year to the charities it holds dear.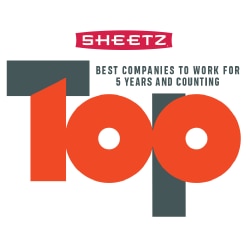 Nearest Major Market: Altoona
Nearest Secondary Market: Johnstown
Apply now »