Security Operations Specialist - 2nd shift
Location: Sheetz Corporate - Claysburg, PA
This is a 2nd shift position working 3:00pm - 11:00pm.
PRIMARY PURPOSE OF THIS POSITION:

Provide safety and security to store level employees and customers by monitoring and responding to alarm signals.

ESSENTIAL FUNCTIONS: (other duties may be assigned)
Dispatch appropriate authorities such as police, fire and/or medical to store and corporate locations when procedures dictate.
Perform routine testing and voice downs (store tours), in addition to utilizing system health-monitoring software, to ensure store level equipment is functioning properly. Contact service providers to initiate repair work on defective equipment.
Cooperate and coordinate with LIT, Law Enforcement and corporate management in on-going investigations of store level and corporate activities, by providing video and other requested data.
Provide guidance and assistance to service providers and internal technicians upon alarm/CCTV system installation or completion of repair work to ensure system integrity; includes the initial configuration and setup of new store security systems.
Manage Access Control at all corporate buildings by monitoring and responding adequately to physical access alarms, systematically defining access levels and issuing identification badges.
May be assigned duties of a Liaison to Corporate Departments, which will include, but not be limited to completing detailed research and review of various incidents that may occur at our stores and corporate sites, download and save video of these incidents, and contact customers to discuss research findings.
This position generally works a set schedule, but this is subject to change due to staffing requirements needed within the department.
Accurately document all daily actions performed within your role

REQUIREMENTS: (Equivalent combinations of education, licenses, certifications and/or experience may be considered)

Education
High School Diploma/GED required
Bachelors degree in business, criminology or a related field preferred.
Related Technical / Trade training / Sheetz training preferred
Experience
2 years related experience required
Licenses/Certifications
Tools & Equipment
ABOUT SHEETZ
Sheetz, Inc. is a fast-growing, family-owned, food/convenience company that has been in business since 1952. Sheetz has over 600 locations in Pennsylvania, Ohio, Virginia, West Virginia, Maryland and North Carolina.

Our mission at Sheetz has been to meet the needs of customers on the go. Of course, things have changed over those nearly 70 years. Life is faster and busier, and customers expect us to be there when they need us most. One thing that hasn't changed is our commitment to our customers, our employees and the communities in which we operate. Sheetz donates millions of dollars every year to the charities it holds dear.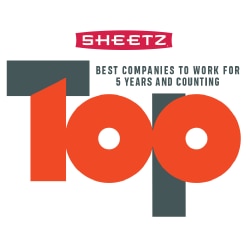 Nearest Major Market: Altoona
Nearest Secondary Market: Johnstown
Apply now »