Seasonal Fresh Food Team Member
Location: Sheetz Distribution Services - Claysburg, PA
This is a temporary, summer position.
Fresh Food & Bakery:
Let's make SUMMER CASH happen!
Ever had a job that leaves you watching the clock and waiting around for quitting time? You can kiss that feeling GOODBYE this summer as a Fresh Food Operations or Bakery Operations Seasonal Team Member at Sheetz Bros. Kitchen! Between performing various bakery production duties and assembling and packaging our Ready-To-Eat items, you can never expect to find yourself bored here! 
If you have high-energy & love to hustle, we are now accepting applications for our summer work fam! Sheetz Distribution Services is looking for seasonal help in our Sheetz Brothers Kitchen to help prepare for the increase of in-store orders.
Oh, and did we mention 4-day work weeks?! Our seasonal opportunities will be a 9-12 week period from approximately the end of May until the end of August with 10-hour shifts. Please note that business needs and/or weather events may require occasional adjustments to start times and longer days could be necessary due to production needs.
Fresh Food Operations Production:
 PRIMARY PURPOSE OF THIS POSITION:
Prepare, assemble and package Ready-To-Eat items to be shipped to stores.
ESSENTIAL FUNCTIONS: (other duties may be assigned)
1.   Assembly – Assemble Ready-To-Eat food items.
2.   Wrapping/Packaging – Wrap/package and label finished Ready-To-Eat items.
      3.   Feeding – Place ingredients on conveyors for assembly.
      4.   Cup Line – placing ingredients, packaging, labeling and packing.
Fresh Food Operations - Picking/Shipping:
PRIMARY PURPOSE OF THIS POSITION:
Select and put away products, and unload trucks to meet daily production and shipping needs. 
ESSENTIAL FUNCTIONS: (other duties may be assigned)
1. RTE Picking – Select orders to ship to stores, fill and properly label totes.
2. Production Receiving – Count, verify correct labeling and receive finished RTE items into inventory.
3. Shipping – Place totes/trays on appropriate trucks for shipping.
4. RTE Production – Assemble and wrap RTE items when needed.
5. Replenishment – fill picking locations with finished products.
6. Case packing – package finished products into cases and palletize.
Bakery Operations: 
PRIMARY PURPOSE OF THIS POSITION:
Perform various bakery production duties to contribute to the production of quality bakery items.
ESSENTIAL FUNCTIONS: (other duties may be assigned)
1. Maintain consistent product supply through production equipment, such as depositors, fillers, cutters, ovens, mixers, metal detection and other production-related equipment.
2. Product finishing – filling, icing, dipping, and decorating finished bakery products.
3. Traying, panning, depanning, feeding, stacking, packaging, labeling, and palletizing bakery products at various stages of production.
4. Moving racks and trays of products to various areas within the bakery.
5. Labeling, record keeping, completing time sheets, performing personal safety and food safety checks, performing product specification checks and recording results.
6. Cleaning production equipment and work areas utilizing basic tools; brushes, hoses, brooms, squeegees, sanitizing wipes, cleaning chemicals, etc.
7. Rotating through various bakery-related positions to assist with other areas in need of assistance
8. Basic use of RF's, order selecting, etc.
REQUIREMENTS for Fresh Food & Bakery: (Equivalent combinations of education, licenses, certifications and/or experience may be considered)
MINIMUM REQUIREMENTS
Must be 18 years of age to be considered

Education
High School Diploma/GED preferred

Experience
No experience required

Sheetz is an Equal Opportunity Employer
ABOUT SHEETZ
Sheetz, Inc. is a fast-growing, family-owned, food/convenience company that has been in business since 1952. Sheetz has over 600 locations in Pennsylvania, Ohio, Virginia, West Virginia, Maryland and North Carolina.

Our mission at Sheetz has been to meet the needs of customers on the go. Of course, things have changed over those nearly 70 years. Life is faster and busier, and customers expect us to be there when they need us most. One thing that hasn't changed is our commitment to our customers, our employees and the communities in which we operate. Sheetz donates millions of dollars every year to the charities it holds dear.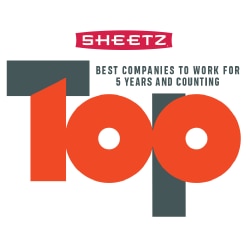 Nearest Major Market: Altoona
Nearest Secondary Market: Johnstown
Job Segment: Seasonal, Merchandising, Retail
Apply now »