Send me alerts every days
SDS Transportation Department Manager
Location: Sheetz Distribution Services - Claysburg, PA
PRIMARY PURPOSE OF THIS POSITION:

Oversee departmental driver performance and manage to budgeted goals as well as solving day to day operational issues and opportunities.

ESSENTIAL FUNCTIONS: (other duties may be assigned)
Maximize the development of internal talent through regular performance coaching, performance reviews and presenting developmental opportunities.
Align area objectives with the strategic goals of the department.
Monitor annual budgets for assigned area of responsibility to maximize profit.
Monitor daily operations to ensure driver schedules are met with depart and delivery times.
Manage and plan an open dialogue with Logistics Analyst and Data and Scheduling Supervisor to encourage Driver input in regard to routing and scheduling.
Obtain driver feedback and input through daily interactions in the driver's room, phone calls, driver meetings, etc and follow up with any issues that require resolution. Maintain opencommunication and adequate follow up with internal and external customers to ensure timelyresolution to issues.
Enforce all company policy and procedures as well as pertinent D.O.T. laws, statutes and safe driving practices, including SmartDrive or I.M.D.S. data.
Perform Driver / Driver Assistant evaluations within 2 weeks of employee Anniversary date. Address performance and disciplinary issues as soon as possible but no later than 2 weeks after occurrence.
Work with the CLI Safety Dept. to investigate and report driver accidents and provide analytical data to support accountability.
Perform driver interviews and make hiring decisions with Human Resources to maintain adequate headcount and control payroll costs.

REQUIREMENTS: (Equivalent combinations of education, licenses, certifications and/or experience may be considered)

Education
Technical / Trade training / Sheetz training
Experience
5 years related experience
Licenses/Certifications
Valid Driver's License required. CDL preferred.
Tools & Equipment
General Office Equipment
ABOUT SHEETZ
Sheetz, Inc. is a fast-growing, family-owned, food/convenience company that has been in business since 1952. Sheetz has over 600 locations in Pennsylvania, Ohio, Virginia, West Virginia, Maryland and North Carolina.

Our mission at Sheetz has been to meet the needs of customers on the go. Of course, things have changed over those nearly 70 years. Life is faster and busier, and customers expect us to be there when they need us most. One thing that hasn't changed is our commitment to our customers, our employees and the communities in which we operate. Sheetz donates millions of dollars every year to the charities it holds dear.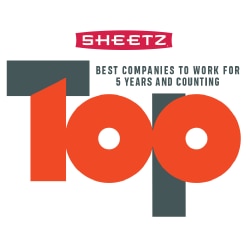 Nearest Major Market: Altoona
Nearest Secondary Market: Johnstown
Apply now »