SDS Sanitation Team Member-2nd Shift
Location: Sheetz Distribution Services - Claysburg, PA
Level: 1 
PRIMARY PURPOSE OF THIS POSITION:

Maintain the appearance and cleanliness of the Distribution Center.  Unload Sheetz trucks after return from deliveries and clean all totes.

ESSENTIAL FUNCTIONS: (other duties may be assigned)
Follow food safety inspection standards for 3rd party, HAACP, and FDA inspections.
Cleaning racks, tote cleaning, and scrubbing dock areas.
Safely operate commercial sweeper/scrubber for DC floors, certified training required.
Safely operate pallet jacks for moving materials through the Distribution Center, certified training required.
Perform job duties in all storage temperatures outside conditions, without cold pay differential.
Outside: empty trash, clean windows, power wash patios, salt walks, snow removal for designated areas, and clean tables/chairs.
Willing to change schedule as needed to perform tasks around production times.
Take fountain machine apart to clean and sanitize ice maker.
Bathrooms: clean counters and sinks, wipe down walls of stalls, disinfect toilet bowls and urinals, replenish hand towels, toilet paper, and dispensers.
Floors: broom sweep and mop linoleum floors, carpeted floors are vacuumed.
Windows and glass doors: clean all interior/exterior windows and glass doors.
Distribution Center offices: disinfect phones, doorknobs, empty trash bins, dust desks, equipment, chairs, blinds, window sills, baseboards, pictures, shelves, filing cabinets, bulletin boards, lamps, plants, vacuum floors or mop, pending on floor coverings.
Periodically clean: lights/ceiling vents, solids doors/walls, steam clean carpets/rugs, and fryer vent covers.
Order cleaning supplies.

REQUIREMENTS: (Equivalent combinations of education, licenses, certifications and/or experience may be considered)

Education
No specific level of training or education required, training on operation of forklift equipment preferred.
Experience
No specific level of experience required, experience with operation of forklift equipment preferred.
Licenses/Certifications
ABOUT SHEETZ
Sheetz, Inc. is a fast-growing, family-owned, food/convenience company that has been in business since 1952. Sheetz has over 600 locations in Pennsylvania, Ohio, Virginia, West Virginia, Maryland and North Carolina.

Our mission at Sheetz has been to meet the needs of customers on the go. Of course, things have changed over those nearly 70 years. Life is faster and busier, and customers expect us to be there when they need us most. One thing that hasn't changed is our commitment to our customers, our employees and the communities in which we operate. Sheetz donates millions of dollars every year to the charities it holds dear.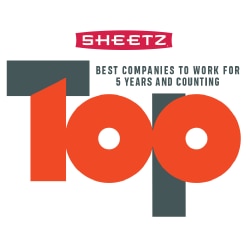 Nearest Major Market: Altoona
Nearest Secondary Market: Johnstown
Apply now »