Send me alerts every days
Location: Sheetz Distribution Services - Claysburg, PA
PRIMARY PURPOSE OF THIS POSITION:
Manage DC operations to achieve the most efficient, cost effective, high quality production possible. Establish best practices and lead the DC Ops team in focusing on quality, food safety, maximizing customer service levels, and a positive culture, while minimizing operating costs and compliance with our industrial safety, inventory controls, quality control, sanitation and food safety standards.

ESSENTIAL FUNCTIONS: (other duties may be assigned)
1. Maximize the development of internal talent through regular performance coaching, performance reviews and presenting developmental opportunities.
2. Align area objectives with the strategic goals of the department.
3. Monitor annual budgets for assigned area of responsibility to maximize profitability.
4. Implement thorough plan of production scheduling, benchmarking, work organization and efficiency, GMP practices, sanitation safety, HACCP and hygiene practices.
5. Monitor and assist DC Supervisors in daily operations.
6. Formulate and manage various performance and efficiency metrics.
7. Develop and consistently enforce all production processes and procedures.
8. Design and implement continuous improvement efforts in work group organization and manufacturing process methodology.
9. Develop and implement cost control procedures.
10. Assist in new equipment and technology projects for successful launches.

REQUIREMENTS: (Equivalent combinations of education, licenses, certifications and/or experience may be considered)
Education
• Technical / Trade training / Sheetz training
• Associate's degree in Business Administration, Logistics, Distribution, Industrial Engineering, or other closely related field is preferred

Experience
• 5 years experience in operational management supervising a workforce
• Experience in food distribution, transporation, food safety, and quality control is preferred
• Experience with warehouse management computer systems, and production planning computer systems is preferred

Licenses/Certifications
ABOUT SHEETZ
Sheetz, Inc. is a fast-growing, family-owned, food/convenience company that has been in business since 1952. Sheetz has over 600 locations in Pennsylvania, Ohio, Virginia, West Virginia, Maryland and North Carolina.

Our mission at Sheetz has been to meet the needs of customers on the go. Of course, things have changed over those nearly 70 years. Life is faster and busier, and customers expect us to be there when they need us most. One thing that hasn't changed is our commitment to our customers, our employees and the communities in which we operate. Sheetz donates millions of dollars every year to the charities it holds dear.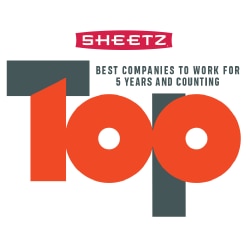 Nearest Major Market: Altoona
Nearest Secondary Market: Johnstown