Location: Sheetz Corporate - Claysburg, PA

 

PRIMARY PURPOSE OF THIS POSITION:

Manage the financial cost estimating of all New Stores, Rebuilds, Major Remodels, and other associated capital projects through the use of estimating software. Provide cost estimates at critical stages for each project in order to support analytics needed to make crucial decisions and support accurate budgeting.

ESSENTIAL FUNCTIONS: (other duties may be assigned)
Develop and maintain a regular schedule of cost estimates needed to support on-going project decision making and yearly budgets.
Utilize estimating software, historical and regional cost data to prepare detailed estimates for all projects, monitoring accuracy of cost estimates upon project completion and making appropriate adjustments to future estimates.
Develop processes and procedures to document all project estimates and conceptual budgets as they evolve through the life of a project.
Support store development partners by verifying preliminary budgets provided by consultants and developing preliminary internal budgets.
Provide value engineering recommendations as needed, and at the appropriate times throughout the life of each project to support the most economical means of construction.
Interface with regional managers to determine preliminary schedule durations for each project, depending on project scope, and potential obstructions during construction.
Issue detailed quantity take offs prior to bidding out the project, by others. Support contract negotiations during bid analysis based on preliminary take offs and estimates.
Provide budget updates and feedback for assigned projects at project review meetings as needed.
Develop site specific conceptual estimates for uncommon practices needed in order to successfully complete a project when required.
REQUIREMENTS:
(Equivalent combinations of education, licenses, certifications and/or experience may be considered)
Education
High School diploma required.
Bachelor Degree in Construction / Project Management or related field preferred
Experience
Minimum 7 years commercial building and site construction estimating experience required
Minimum 5 years experience with estimating software systems required
Minimum 3 years management / supervisory experience preferred
Licenses/Certifications
Valid Driver's License required
Ohio, North Carolina, Virginia, or Maryland General Contractors License preferred.
CPR/ First Aid preferred
Tools & Equipment
ABOUT SHEETZ
Sheetz, Inc. is a fast-growing, family-owned, food/convenience company that has been in business since 1952. Sheetz has over 600 locations in Pennsylvania, Ohio, Virginia, West Virginia, Maryland and North Carolina.

Our mission at Sheetz has been to meet the needs of customers on the go. Of course, things have changed over those nearly 70 years. Life is faster and busier, and customers expect us to be there when they need us most. One thing that hasn't changed is our commitment to our customers, our employees and the communities in which we operate. Sheetz donates millions of dollars every year to the charities it holds dear.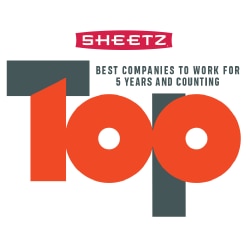 Nearest Major Market: Altoona
Nearest Secondary Market: Johnstown
Apply now »