Send me alerts every days
Petroleum Trading Analyst
Location: Sheetz Corporate - Claysburg, PA
PRIMARY PURPOSE OF THIS POSITION:

Conduct market, competitor, industry, and financial exposure analysis to develop hedging and trading strategies and pricing models.

ESSENTIAL FUNCTIONS: (other duties may be assigned)
Maintain financial exposure management program to monitor the physical position, futures position and net position.
Analyze the impact of daily price fluctuations on mark-to-market financial performance to provide support for hedge decisions.
Develop trading strategies and models and track the performance of trading strategies.
Model profitability of term deals and communicate findings to management.
Maintain Triple Point (Energy Trading Risk Management) system with required data feeds.
Perform market analysis, including both fundamental and technical analysis for the oil market.
Compare rack prices against throughput prices to make recommendations about daily lifting.
Communicate with logistic/supply side to capture third party transactions.
Fill out the deal log and key in deals into CXL on a daily basis.
Price EFP deals and report EFP deals to the broker to post onto NYMEX.

REQUIREMENTS: (Equivalent combinations of education, licenses, certifications and/or experience may be considered)

Education
Bachelor's degree in related field
Experience
Minimum of one year related experience preferred
Licenses/Certifications
ABOUT SHEETZ
About Sheetz: Sheetz, Inc. is a fast-growing, family-owned, food/convenience company that has been in business since 1952. Sheetz has numerous locations in Pennsylvania, Ohio, Virginia, West Virginia, Maryland and North Carolina where we have ranked Best Places to Work in those states participating in that program.

Our mission at Sheetz has been to meet the needs of customers on the go. Of course, things have changed over those 60+ years. Life is faster and busier, and customers expect us to be there when they need us most. One thing that hasn't changed is our commitment to our customers, our employees and the communities in which we operate. Sheetz donates hundreds of thousands of dollars every year to the charities it holds dear.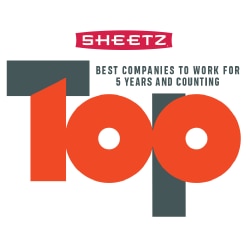 Nearest Major Market: Altoona
Nearest Secondary Market: Johnstown