Internal Communications Specialist I
Location: Sheetz Corporate - Claysburg, PA
PRIMARY PURPOSE OF THIS POSITION:

Support and execute the company's internal communications strategy through clear, relevant, targeted, timely and consistent communications. Coordinate, create, and distribute internal communications that keep various employee groups informed, inspired, and aligned with Sheetz's strategy, priorities, culture, and values.

ESSENTIAL FUNCTIONS: (other duties may be assigned)
Develop communication plans and content, including planning, writing, and editing, for a variety of internal channels including (but not limited to) the company intranet, email, presentations, scripting, digital and print.
Consolidate messaging and information to provide the most concise and effective communications delivering relevant content across the appropriate channels.
Collaborate with and provide counsel to business stakeholders to plan and execute communications that advance company culture, organizational strategy and business unit goals.
Monitor, filter and moderate content to ensure messaging is timely, relevant and targeted.
Support employee two way communications through moderation, engagement, and meetings through established communication processes and effective communication plans.
Research and recommend emerging communications channels and formats to increase employee engagement with communications and improve impact.

REQUIREMENTS: (Equivalent combinations of education, licenses, certifications and/or experience may be considered)

Education
Bachelor's Degree in English, Communications, Journalism, or related field required
Experience
Three years' experience in a professional internal, external and/or corporate communications role (internal or external) required
Demonstrated strength in writing and editing
Ability to work with team members remotely and across locations
Ability to work with business units on communications projects toward a common goal
Ability to adjust to shifting priorities, complete tasks on time, and work independently when needed
Strong attention to detail as well as knowledge of business copywriting standards
Ability to work in a dynamic, fast-paced environment while maintaining attention to detail
Proficiency Outlook and Microsoft Office products required
ADOBE Illustrator and/or photo shop experience preferred
Licenses/Certifications
Tools & Equipment
* This position offers a hybrid work schedule. 3 days in office, 2 days remote. 
ABOUT SHEETZ
Sheetz, Inc. is a fast-growing, family-owned, food/convenience company that has been in business since 1952. Sheetz has over 600 locations in Pennsylvania, Ohio, Virginia, West Virginia, Maryland and North Carolina.

Our mission at Sheetz has been to meet the needs of customers on the go. Of course, things have changed over those nearly 70 years. Life is faster and busier, and customers expect us to be there when they need us most. One thing that hasn't changed is our commitment to our customers, our employees and the communities in which we operate. Sheetz donates millions of dollars every year to the charities it holds dear.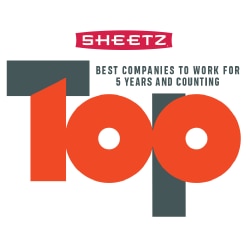 Nearest Major Market: Altoona
Nearest Secondary Market: Johnstown
Apply now »