Location: Sheetz Corporate - Claysburg, PA

 

PRIMARY PURPOSE OF THIS POSITION:

Evaluates and tests new or modified software programs and software development procedures used to verify that programs function according to user requirements and conform to established guidelines. This person is responsible for creating an end-to-end test plan; executing the plan and managing all activities in the plan to ensure that all the objectives are met and that the solution works as expected. This position is responsible for advanced level software/hardware testing. Most assignments are processed independently with a wide range of latitude for corrections and process changes.

ESSENTIAL FUNCTIONS: (other duties may be assigned)
Observes computer monitor screen during program test to detect error codes or interruption of program and corrects errors. Insures that proper error correction procedures are documented and executed.
Conducts compatibility tests with provided software, both manually and with automated testing tools. Works with Business owners to develop test plans and create test reports to describe program evaluation, testing, and correction.
Document software defects and errors, using documentation reporting procedures (Rally, Service Desk, others) to report defects to software developers and project managers
Provide timely updates and elevate critical risks to the Quality Assurance Unit Supervisor. Monitors bug resolution efforts and track successes
Operate and maintain test labs. Assists with the development of various set-up scripts and procedures as needed for LAB set-up and initial configuration as part of LAB Prep Work.
Possess in-depth knowledge of Microsoft Office Suite , Web Browsers and Sheetz Specific Software, is able to provide technical advice and counsel to less experienced IT admin Quality Assurance personnel
Participate in product design reviews, providing input on functional requirements, product designs, schedules, or potential problems.
Monitors bug resolution efforts and track success. Suggests solutions to advance resolution delivery.
Provide evening and weekend support as needed. Sheetz is open 24/7/365 and as such, our internal and external customers may require our QA support at any time.
REQUIREMENTS:
(Equivalent combinations of education, licenses, certifications and/or experience may be considered)
Education
A four-year degree in Computer Science, Management Information Systems, Computer Engineering; or a four year degree in another field of study which includes courses in computer programming, systems analysis, system development, or systems engineering is preferred.
Experience
Minimum 3 years of applicable experience in a technology environment required.
Licenses/Certifications
Quality Assurance Worldwide – Software certification is preferred.
Tools & Equipment
ABOUT SHEETZ
Sheetz, Inc. is a fast-growing, family-owned, food/convenience company that has been in business since 1952. Sheetz has over 600 locations in Pennsylvania, Ohio, Virginia, West Virginia, Maryland and North Carolina.

Our mission at Sheetz has been to meet the needs of customers on the go. Of course, things have changed over those nearly 70 years. Life is faster and busier, and customers expect us to be there when they need us most. One thing that hasn't changed is our commitment to our customers, our employees and the communities in which we operate. Sheetz donates millions of dollars every year to the charities it holds dear.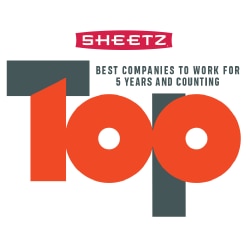 Nearest Major Market: Altoona
Nearest Secondary Market: Johnstown
Apply now »