Send me alerts every days
IT Admin Support Unit Manager
Location: Sheetz Corporate - Claysburg, PA
PRIMARY PURPOSE OF THIS POSITION:

The IT Admin Unit Manager assists the Admin Support Team Manager in making the technical, operational/physical, and human resource decisions that affect the Admin Support team. Responsible for overseeing IT-HR Support Team, IT Financial Licensing Team, and the IT Procurement Team. This position implements tactical strategy and provides management duties, guiding staff in the execution of, and improvement in, day-to-day assigned responsibilities.

ESSENTIAL FUNCTIONS: (other duties may be assigned)
Maximizes the development of internal talent through regular performance coaching, performance reviews and presenting developmental opportunities.
Administration of the various human resource plans and procedures for all IT personnel; assists in the development and implementation of personnel policies and procedures within IT.
Responsible for the development of department goals, objectives and initiatives. Assists with Department budgeting and analysis. Monitors execution and directs the implementation of process improvements, as necessary
Reviews and approves invoices for payment and communicating information to employees. Serves as the review and approval authority of most output provided by the assigned staff, as delegated. Escalates issues to department heads as required.
Monitors the Procurement, Invoice Processing, Inventory Control, Financial Analysis & Reporting, and Staff Support processes as the IT foundation. Serves as a contributor to the creation of IT Leadership/HR/New Hire training and other facilitated sessions.
Recommends and implements new approaches, policies and procedures to effect continual improvements in efficiency of the department and services performed.
Defines KPIs for team to guide efficient and effective process flow in day-to-day operations. Builds working relationships with Sheetz internal and external stakeholders to represent IT Admin Support.
Resolves contract delinquencies and coordinates resolution with external entities, when necessary.
Reviews output of analytical and statistical reports, identifies trends, advises and recommends actions based on sound analysis.

REQUIREMENTS: (Equivalent combinations of education, licenses, certifications and/or experience may be considered)
Education

A four-year degree in Computer Science, Management Information Systems, Computer Engineering or a business related degree preferred
Experience
10 years of applicable experience in a technology environment, to include:

6 years of multi-person team management experience, including task assignment, performance coaching and reviews, hiring practices, and conflict management / resolution.
Demonstrated experience in an advanced leadership role, including cross functional team leadership

Experience with Technology Business Management, Purchasing and Vendor Management is preferred.
Licenses/Certifications
TBM and/or Financial Management certification is preferred.
Tools & Equipment
ABOUT SHEETZ
Sheetz, Inc. is a fast-growing, family-owned, food/convenience company that has been in business since 1952. Sheetz has over 600 locations in Pennsylvania, Ohio, Virginia, West Virginia, Maryland and North Carolina.

Our mission at Sheetz has been to meet the needs of customers on the go. Of course, things have changed over those nearly 70 years. Life is faster and busier, and customers expect us to be there when they need us most. One thing that hasn't changed is our commitment to our customers, our employees and the communities in which we operate. Sheetz donates millions of dollars every year to the charities it holds dear.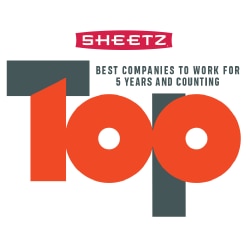 Nearest Major Market: Altoona
Nearest Secondary Market: Johnstown
Apply now »