Location: Sheetz Corporate - Claysburg, PA
PRIMARY PURPOSE OF THIS POSITION:

Work with IT and HR end-users to assist in the understanding of systems and interprets business needs to apply technology for solving and supporting business requirements. This person will be part of a team responsible for defining, developing, testing, analyzing and maintaining the HR systems and future modules. This includes writing, testing, analyzing and supporting UKG Workforce Central and would also include the research, design, documentation, and modification of software specifications throughout the production life cycle. This person will take an active role in project management tasks.

ESSENTIAL FUNCTIONS: (other duties may be assigned)
Information Analysis - Serves as the HRIS systems/process expert for the respective area of HR. Effectively communicates with end-users to understand requirements. Researches, recommends and implements process improvements to better utilize HR systems and/or enhance existing business processes.
Documentation - Document changes to the application or processing method; specification statements that include impact analysis; test plans; written customer acceptance to the testing that should include use cases; security impact of the request to include access levels, security measures that were included, and how security was tested in the test plan.
Development / Implementation - Maintains and supports HR systems based on operation and regulatory requirements through the review, testing and implementation of upgrades, enhancements, business requests and patches. Responsible for all system configurations. Supports application development and standardization.
Testing Acceptance - Ensure that all unit, system, regression and acceptance testing has been successfully completed and approved in a development / test environment prior to releasing any updates to QA / production.
Customer Support - Support problem resolution for functional area. Always be willing to help a customer find the appropriate procedure or resource, even if the issue is not your direct responsibility.
Projects - Assist and participate in projects as assigned by the HR Systems & Process Manager. Assist with the coordination of resources, schedules and communication for the project as needed.

REQUIREMENTS: (Equivalent combinations of education, licenses, certifications and/or experience may be considered)

Education
4 year degree in MIS or related field
Experience
5 years of relevant experience
Licenses/Certifications
ABOUT SHEETZ
Sheetz, Inc. is a fast-growing, family-owned, food/convenience company that has been in business since 1952. Sheetz has over 600 locations in Pennsylvania, Ohio, Virginia, West Virginia, Maryland and North Carolina.

Our mission at Sheetz has been to meet the needs of customers on the go. Of course, things have changed over those nearly 70 years. Life is faster and busier, and customers expect us to be there when they need us most. One thing that hasn't changed is our commitment to our customers, our employees and the communities in which we operate. Sheetz donates millions of dollars every year to the charities it holds dear.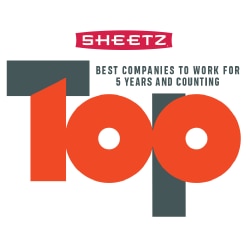 Nearest Major Market: Altoona
Nearest Secondary Market: Johnstown
Apply now »