Government Relations Manager
Location: Sheetz Corporate - Claysburg, PA
PRIMARY PURPOSE OF THIS POSITION:

Monitor legislation at the Federal, State and local level to determine the best avenues for informing politicians about the Company's stance and involvement. Will also proactively research policies to see what changes could be advantageous and which trends might negatively impact the Company in the future.

ESSENTIAL FUNCTIONS: (other duties may be assigned)
Assists with the coordination of all appropriate lobbying efforts on behalf of the Company by serving as an advocate of Sheetz' best interests and working to educate lawmakers regarding the impact any proposed legislation or regulation would have on Sheetz and our employees or customers
Oversee all financial aspects of the Company's Political Action Committee (SheetzPAC), such as filing monthly federal and state campaign treasurer's reports to document all incoming contributions and outgoing expenditures; oversee the creation of the PAC's member solicitation and communications programs, by designing, implementing and measuring annual PAC membership campaigns and developing materials, brochures, and a newsletter
Supports the VP/General Counsel as the Company's liaison to governmental and non-governmental organizations in all states within which the Company operates
Serves as the primary contact for state industry groups
Monitors local, state and federal legislation and regulations, and reports possible impact to the VP/General Counsel
Oversees state government initiatives and periodically reviews the performance of outside consultants and/or lobbyists
Assists in the creation and execution of the Company's state legislative agenda
Serves as primary contact with consultants and/or lobbyists contracted by the Company to support its initiatives at the state level
Coordinates and communicates the Company's strategic legislative plan and priorities
Recommends actions and strategies to advance the Company's state legislative agenda
Works collaboratively with Marketing, Brand, Internal and External communications and other internal business partners to advance or enhance legislation favorable to the Company

REQUIREMENTS: (Equivalent combinations of education, licenses, certifications and/or experience may be considered)

Education
Bachelor's Degree in Political Science, Communications, Journalism, business administration, public administration, or a closely related field required.
A Juris Doctor Degree is preferred.
Experience
Minimum of at least 7 years of demonstrated experience as a legislative analyst or lobbyist required. Attainment of legislative representation, policy analysis, or similar experience for a multi-unit retailer is preferred.
Licenses/Certifications
May require certification as a registered lobbyist
Tools & Equipment
This position is remote for candidates living within our 6 state footprint (OH, PA, MD, WV, VA, NC)
ABOUT SHEETZ
Sheetz, Inc. is a fast-growing, family-owned, food/convenience company that has been in business since 1952. Sheetz has over 600 locations in Pennsylvania, Ohio, Virginia, West Virginia, Maryland and North Carolina.

Our mission at Sheetz has been to meet the needs of customers on the go. Of course, things have changed over those nearly 70 years. Life is faster and busier, and customers expect us to be there when they need us most. One thing that hasn't changed is our commitment to our customers, our employees and the communities in which we operate. Sheetz donates millions of dollars every year to the charities it holds dear.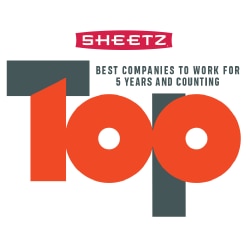 Nearest Major Market: Altoona
Nearest Secondary Market: Johnstown
Apply now »