Environmental Services Support Specialist
Location: Sheetz Corporate - Claysburg, PA
PRIMARY PURPOSE OF THIS POSITION:

Provide administrative and limited program support services to members of the Environmental Services Department (ESD) within the Legal Department.  Assist with various aspects of maintaining operational and regulatory compliance for both existing and proposed Sheetz facilities.

ESSENTIAL FUNCTIONS: (other duties may be assigned)
Assist ESD Management Staff with overall administrative and support functions necessary to operate the department.
Prepare, manage, and keep current a variety of electronic spreadsheets, databases, and documents related to various department projects.
Track project schedules, coordinate with various third party service providers, assist with research and preparation for various department meetings and information requests by other Departments within Sheetz.
Prepare, edit, and submit basic correspondence to Sheetz staff, regulating agencies, and third party service providers.
Provide accurate coding and timely processing of invoices.
Oversee administration of Department timesheet completion, vacation and personal day use.
Receive and generate Service Desk calls associated with Department issues, see through to completion, and document all activities and resolutions within the appropriate data management system.
Prepare PowerPoint presentations, tables, and other graphic presentation material to support various projects, meetings, and deliverables.
Utilize intrapersonal skills to provide timely and responsive communication with both ESD staff, as well as other Departments within Sheetz.

REQUIREMENTS: (Equivalent combinations of education, licenses, certifications and/or experience may be considered)

Education
High School Diploma or Equivalent required
Experience
Minimum of 2 years relevane administrative experience required.
In depth knowledge of Microsoft Office programs, PDF documents, and electronic document management systems required.
Interaction with a variety of third-party service providers from a scheduling and logistics perspective preferred
ABOUT SHEETZ
Sheetz, Inc. is a fast-growing, family-owned, food/convenience company that has been in business since 1952. Sheetz has over 600 locations in Pennsylvania, Ohio, Virginia, West Virginia, Maryland and North Carolina.

Our mission at Sheetz has been to meet the needs of customers on the go. Of course, things have changed over those nearly 70 years. Life is faster and busier, and customers expect us to be there when they need us most. One thing that hasn't changed is our commitment to our customers, our employees and the communities in which we operate. Sheetz donates millions of dollars every year to the charities it holds dear.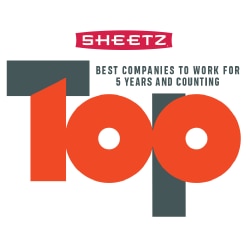 Nearest Major Market: Altoona
Nearest Secondary Market: Johnstown
Apply now »