Employee Relations Specialist
Location: Sheetz Corporate - Claysburg, PA

 

PRIMARY PURPOSE OF THIS POSITION:

Provide direct support and guidance to Regional Managers, District Managers, Store Management Teams, LIT, Store Employees and other Sheetz employees as needed regarding a broad range of Employee Relations issues.

ESSENTIAL FUNCTIONS: (other duties may be assigned)
Partner with assigned Regional and District Managers regarding the resolution of a wide variety of Employee Relations issues with a focus on compliance with Sheetz employment policies and federal, state and local employment laws. Additionally, the Employee Relations Specialist focuses on making all decisions and recommendations in a manner consistent with and in support of the Sheetz Culture.
Provide direction and guidance, including the coordination of investigations, to Store Operations Managers and LIT, regarding a broad range and high volume of Employee Relations issues on a daily basis, often involving making complex (in consideration of legal, administrative and Sheetz cultural criteria) decisions.
Provide direct support and ongoing follow up, 24/7/365, on unique and sometimes emergent situations, such as employee mental health concerns (threats of suicide etc.), store robberies, employee assaults and deaths, etc.
Approve disciplinary action up to and including termination in accordance with Company policy and escalate more complex or high profile issues to the Manager of Employee Relations.
Coordinate the Employee Engagement Survey follow up process in conjunction with Operations and provide recommendations of actions to be taken based upon interviews with employees.
Respond to and resolve Employee Hotline calls, working in conjunction with District Managers. The Employee Relations Specialist will typically make the final decision on when to close an Employee Hotline call.
Actively support the Legal Department with the Company's response to EEOC complaints, employment-related litigation, etc.
Serve as a trainer/presenter at various Company employee orientation and training programs.
REQUIREMENTS:
(Equivalent combinations of education, licenses, certifications and/or experience may be considered)
Education
Bachelor's Degree in Human Resources or related field required
Experience
Minimum 3 years' experience in Human Resources or related field required
Licenses/Certifications
PHR or SPHR certification preferred
Tools & Equipment
ABOUT SHEETZ
About Sheetz: Sheetz, Inc. is a fast-growing, family-owned, food/convenience company that has been in business since 1952. Sheetz has numerous locations in Pennsylvania, Ohio, Virginia, West Virginia, Maryland and North Carolina where we have ranked Best Places to Work in those states participating in that program.

Our mission at Sheetz has been to meet the needs of customers on the go. Of course, things have changed over those 60+ years. Life is faster and busier, and customers expect us to be there when they need us most. One thing that hasn't changed is our commitment to our customers, our employees and the communities in which we operate. Sheetz donates hundreds of thousands of dollars every year to the charities it holds dear.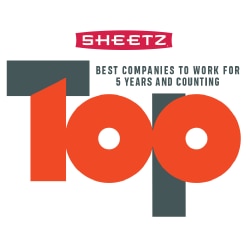 Nearest Major Market: Altoona
Nearest Secondary Market: Johnstown
Apply now »