Location: Sheetz Corporate - Claysburg, PA

 

PRIMARY PURPOSE OF THIS POSITION:

The E-commerce Specialist is responsible for the set-up and modification of Food Service & Specialty Beverage (F&B) products within 6e and menus across all consumer ordering systems.

ESSENTIAL FUNCTIONS: (other duties may be assigned)
Execute the process by which all F&B products sold via consumer ordering systems are created and updated. This includes, but is not limited to:

Overseeing supplier items in conjunction with Pricebook Department
Managing depletion matrices, units of measure, waste/inventory data
Establishing recipe structures and condiment sorting arrays
Validation of product linkage to all accounting and marketing systems
Create product attributes, naming conventions and replenishment thresholds with the distribution center (DC)
Documenting nutrition information for new or modified items

Collaborate with departments to ensure accurate and timely execution of additions and changes within the systems.
Coordinate and validate testing of new or modified F&B products and ordering system changes with other departments to ensure accuracy and support consumer ease of use.
Develop procedures to continually streamline existing processes by identifying inefficiencies and creating plans for improvement.
Investigate and resolve discrepancies that may arise regarding depletion, item level setup, and store level waste variances. Compile ingredient costs and potential retails for Category Managers as requested.
Resolve support calls related to ordering systems to ensure timely completion and/or follow-up. Develop supplemental materials to assist support team with quickly resolving future issues.
Create and maintain detailed documentation regarding ordering systems and F&B product setup and modification, including but not limited to: feature change planning, weekly notes, timelines, flow schematics, pricing matrices, etc.
Execute point of sale (POS) menu, ordering system menus, and item/recipe/coupon authoring.
REQUIREMENTS:
(Equivalent combinations of education, licenses, certifications and/or experience may be considered)
Education
Bachelor Degree with an emphasis in Business, Marketing or Information Science required.
Experience
Minimum of two years of business experience required
Understanding of food service management/accounting principles preferred
Working knowledge of Radiant 6e platform is preferred
Basic sales and marketing principles preferred
Licenses/Certifications
Tools & Equipment
ABOUT SHEETZ
Sheetz, Inc. is a fast-growing, family-owned, food/convenience company that has been in business since 1952. Sheetz has over 600 locations in Pennsylvania, Ohio, Virginia, West Virginia, Maryland and North Carolina.

Our mission at Sheetz has been to meet the needs of customers on the go. Of course, things have changed over those nearly 70 years. Life is faster and busier, and customers expect us to be there when they need us most. One thing that hasn't changed is our commitment to our customers, our employees and the communities in which we operate. Sheetz donates millions of dollars every year to the charities it holds dear.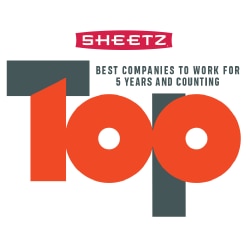 Nearest Major Market: Altoona
Nearest Secondary Market: Johnstown
Apply now »