Send me alerts every days
Location: Sheetz Corporate - PITTSBURGH, PA
Level: 9 
LOCATION: Claysburg & Pittsburgh
PRIMARY PURPOSE OF THIS POSITION:
Provide digital design support for all in house creative projects to achieve continuity in both look and feel of the brand across all channels.

ESSENTIAL FUNCTIONS: (other duties may be assigned)
Produce a variety of graphic design projects that consistently represent the brand in all digital communication channels. This includes but is not limited to: all forms of digital media, on-line advertising, social media, web, mobile, electronic communications, e-store, and digital screens.
Work with in house stakeholders to develop creative solutions and provide digital and graphic design support for a variety of communication projects and campaigns.
Work in concert with other graphic designers, marketing, IT and other designated team personnel in production of creative materials and strive to meet assigned deadlines.
Explore emerging forms of advertising, digital media and social networking that may benefit the marketing effort and assist in testing, implementation and monitoring of new media.
Interact with outside agency(s) as needed to ensure all in house digital design projects are in concert with established Sheetz brand design guidelines.
Interact with vendor(s) as needed to accurately prepare production digtial files for various projects.
Attend industry trade shows and acquire training to stay current with digital communication trends and technology.
Establish and maintain a high quality collection of work that strengthens brand image and consistently reinforces brand identity.

REQUIREMENTS: (Equivalent combinations of education, licenses, certifications and/or experience may be considered)
Education
Bachelors degree in Digital/ Graphic design or related field preferred
Experience
Minimum of 2 years' digital design experience in advertising agency, brand marketing or related field.
Excellent working knowledge of computer design software and hardware.
In-depth knowledge of the digital marketing space and how to effectively communicate using these mediums.
Master a basic understanding of HTML/CSS programming as it relates to design.
Demonstrate proficient knowledge of Adobe Creative Suite, Flash, After Effects and other digital design software that will produce a state of the art final product.
Licenses/Certifications
ABOUT SHEETZ
Sheetz, Inc. is a fast-growing, family-owned, food/convenience company that has been in business since 1952. Sheetz has over 600 locations in Pennsylvania, Ohio, Virginia, West Virginia, Maryland and North Carolina.

Our mission at Sheetz has been to meet the needs of customers on the go. Of course, things have changed over those nearly 70 years. Life is faster and busier, and customers expect us to be there when they need us most. One thing that hasn't changed is our commitment to our customers, our employees and the communities in which we operate. Sheetz donates millions of dollars every year to the charities it holds dear.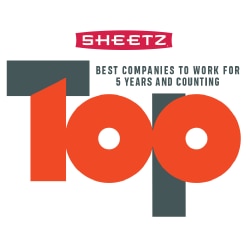 Nearest Major Market: Pittsburgh
Apply now »