Commercial Real Estate Portfolio Manager
Location: Sheetz Corporate - Claysburg, PA
PRIMARY PURPOSE OF THIS POSITION:
Primary responsibility for all existing real estate portfolio activities including, lease re-ups, sale/lease of excess property, Right of Way take issues, Landlord requests, Municipality notices, Easement, Covenant & Restrictions (ECR) issues, Right of First Refusal (ROFR), and Landlord sale issues (SNDA/Estoppel).
ESSENTIAL FUNCTIONS: (other duties may be assigned)
Collaborate with Lease Administration to identify and prioritize stores that need lease renewals.
Negotiate Agreements and Amendments with Landlords for existing stores.
Work with Lease Administration to prepare and analyze CAM expenses, reimbursements and other LL/Sheetz reimbursable costs.
Prepare documents and interact with corporate real estate counsel.
Assist Real Estate Directors and Store Development personnel regarding existing portfolio matters.
Support store development to streamline the closure, de-branding and disposition of closed stores and the disposition of residual property.
Assist VP of Store Development and Directors with rebuild, remodel and relocate decisions.
Develop best practices to align Store Portfolio with the strategic goals of the Real Estate Department as well as with other Sheetz business units.
REQUIREMENTS: (Equivalent combinations of education, licenses, certifications and/or experience may be considered)
Education
Bachelor's Degree in Business Administration or related field required
Experience
Minimum five years' experience in commercial real estate sales and/or development required.
Minimum five years' of real estate contract negotiation required.
Minimum three years' real estate portfolio management experience preferred.
ABOUT SHEETZ
Sheetz, Inc. is a fast-growing, family-owned, food/convenience company that has been in business since 1952. Sheetz has over 600 locations in Pennsylvania, Ohio, Virginia, West Virginia, Maryland and North Carolina.

Our mission at Sheetz has been to meet the needs of customers on the go. Of course, things have changed over those nearly 70 years. Life is faster and busier, and customers expect us to be there when they need us most. One thing that hasn't changed is our commitment to our customers, our employees and the communities in which we operate. Sheetz donates millions of dollars every year to the charities it holds dear.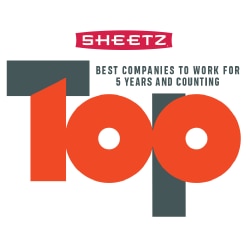 Nearest Major Market: Altoona
Nearest Secondary Market: Johnstown
Apply now »