Business Development Project Manager - Marketing
Location: Sheetz Corporate - Claysburg, PA

 

PRIMARY PURPOSE OF THIS POSITION:

Mid-Range Innovation at Sheetz is focused on developing customer-centric convenience concepts (offers, services and experiences) that are intended to add business value on a 3-7 year time horizon. Provide expertise in planning and managing the day-to-day Mid-Range Innovation activities that include: leveraging customer insight and market trends, applying a Human-Centered design methodology and executing a collaborative and crossfunctional development process.

ESSENTIAL FUNCTIONS: (other duties may be assigned)
Manage the Mid-Range Innovation concept pipeline, guiding all concepts throughout the development concept lifecycle
Work collaboratively with a multi-disciplinary teams to deliver accelerated growth of our current business along with sustained competitive advantage into the future.
Develop sound business cases for innovative concepts with the purpose of operationalizing ideas for implementation in traditional stores, as well as, crafting go-to-market plans to reach desired customer targets.
Leverage technical expertise that contributes to the overall development and execution of Mid-Range Innovation.
Engage in collaborative sessions with other team members to integrate project management into concept development processes and workflows.
Collaborate with key stakeholders to establish best practices around the Mid-Range Innovation processes, dependable concept hand-off, and integrated project plans for utilizing expertise, information, and functionality.
Work collaboratively with internal and external stakeholders as appropriate, to execute or integrate innovation concepts and ensure successful implementation and realization.
Foster a culture of innovation and learning within the Mid-Range process and across the organization.
Cultivate relationships outside of the company to introduce new avenues towards innovation development.
Consult with customer insight experts in order to understand, empathize and assess customer need at a macro level.
Manages Stakeholder relationships and collaboration across all concepts within the pipeline
REQUIREMENTS:
(Equivalent combinations of education, licenses, certifications and/or experience may be considered)
Education
Bachelor's degree in business, marketing, or related field required.
MBA or master's degree in related field preferred.
Experience
Minimum of 7 years in project management / research in a corporate setting required.
Minimum 3 years' experience within consumer-oriented or human-centered research and / or executing intercept-style research or facilitating structured and unstructured discussions with consumers required
Experience managing cross-functional teams and/or contractors required
Experience in innovation, Research & Development, or retail development with project success required.
Experience with Design thinking methodology or other innovation frameworks required
Survey developing process preferred.
Licenses/Certifications
Qualitative Research Proficiency Certification preferred
Design Thinking Certification preferred
PMP or similar certification preferred
Tools & Equipment
ABOUT SHEETZ
Sheetz, Inc. is a fast-growing, family-owned, food/convenience company that has been in business since 1952. Sheetz has over 600 locations in Pennsylvania, Ohio, Virginia, West Virginia, Maryland and North Carolina.

Our mission at Sheetz has been to meet the needs of customers on the go. Of course, things have changed over those nearly 70 years. Life is faster and busier, and customers expect us to be there when they need us most. One thing that hasn't changed is our commitment to our customers, our employees and the communities in which we operate. Sheetz donates millions of dollars every year to the charities it holds dear.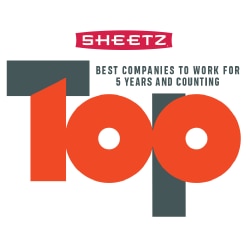 Nearest Major Market: Altoona
Nearest Secondary Market: Johnstown
Apply now »