Send me alerts every days
Location: Sheetz Corporate - PITTSBURGH, PA

 

PRIMARY PURPOSE OF THIS POSITION:

Assist in creating and driving business value and growth though the effective use of Sheetz' most valuable resource: Data. Responsible for leading Sheetz' data and information strategy through data analysis and visualization in order to facilitate and enhance organizational decision-making and data utilization across the company. Provides advanced data analytics support to the Senior Data Analyst while providing mentorship to the Associate Data Analyst around data analytics and information strategy.

ESSENTIAL FUNCTIONS: (other duties may be assigned)
Cultivate data-driven insights that help support exploitation of strategic and tactical business opportunities, and be a champion for a data-driven, decision-making culture.
Support data strategy leadership in the development, assessment, refinement and implementation of corporate strategy through effective use of data analytics.
Provide enterprise-wide data science and business intelligence services as well as recommendations to decentralized, embedded data scientists and analysts throughout the business.
Assist Senior Data Analysts and management in providing training for departmental and distributed data analysts.
Oversee and present robust ad-hoc reports, data models, and deep dive analysis to provide clear observations so that managers can make more informed decisions.
Develop and mentor future data-driven, analytical leaders and strategists within the team.
Assist with a wide array of analytical tasks and projects requested by other departments.
Supports the Senior Data Analyst position with ad-hoc advanced analytics.
Assist in the creation of policies and procedures for the access, analysis and visualization of data and associated business insights; partnering with IT and RISC.
REQUIREMENTS:
(Equivalent combinations of education, licenses, certifications and/or experience may be considered)
Education
Bachelor's degree in Economics, Statistics, Mathematics, Actuarial /Data / Computer Science or related field required
Experience
Minimum 3 years demonstrated experience in data modeling, optimization, and application to business strategies required.
Minimum 3 years demonstrated experience in integrating complex, inter-departmental processes and information strategies, and/or designing strategic metrics and scorecards required.
Thorough understanding of the latest data mining, machine learning and/or artificial intelligence techniques required.
In-depth experience with or coursework in designing and implementing information solutions required.
Licenses/Certifications
Tools & Equipment
ABOUT SHEETZ
Sheetz, Inc. is a fast-growing, family-owned, food/convenience company that has been in business since 1952. Sheetz has over 600 locations in Pennsylvania, Ohio, Virginia, West Virginia, Maryland and North Carolina.

Our mission at Sheetz has been to meet the needs of customers on the go. Of course, things have changed over those nearly 70 years. Life is faster and busier, and customers expect us to be there when they need us most. One thing that hasn't changed is our commitment to our customers, our employees and the communities in which we operate. Sheetz donates millions of dollars every year to the charities it holds dear.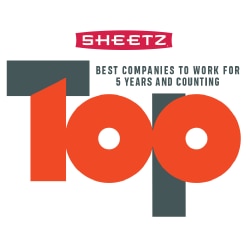 Nearest Major Market: Pittsburgh
Apply now »