Send me alerts every days
Loss Investigation Team Agent - Charleston, WV
Location: Sheetz Corporate - CHARLESTON, WV
PRIMARY PURPOSE OF THIS POSITION:

Provide on-site physical security, deter loitering and apprehend shoplifting to ensure Sheetz stores are safe for both employees and customers. Assist with providing training.

ESSENTIAL FUNCTIONS: (other duties may be assigned)
Identify, coordinate, and perform all loss investigation, prevention, and physical security tasks as assigned.
Observe and report safety and physical security concerns to Loss Investigation Supervisor.
Prepare and maintain detailed reports on information gathered during the course of an investigation.
Assist stores in the reduction of company shrink through theft investigation.
Travel to different locations throughout the company on short notice, frequently requiring overnight stays.
Deter and apprehend loiterers and shoplifters, while ensuring a safe environment for customers and employees.
Assist Loss Investigation Supervisor in training Security Agents and with "In Store" training, while continuing to enhance personal knowledge.

REQUIREMENTS: (Equivalent combinations of education, licenses, certifications and/or experience may be considered)

Education
Experience
2 years related experience
Licenses/Certifications
-Must be available to work evenings and weekends
-Must be available to take call when needed 
ABOUT SHEETZ
About Sheetz: Sheetz, Inc. is a fast-growing, family-owned, food/convenience company that has been in business since 1952. Sheetz has numerous locations in Pennsylvania, Ohio, Virginia, West Virginia, Maryland and North Carolina where we have ranked Best Places to Work in those states participating in that program.

Our mission at Sheetz has been to meet the needs of customers on the go. Of course, things have changed over those 60+ years. Life is faster and busier, and customers expect us to be there when they need us most. One thing that hasn't changed is our commitment to our customers, our employees and the communities in which we operate. Sheetz donates hundreds of thousands of dollars every year to the charities it holds dear.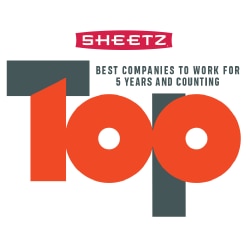 Nearest Major Market: Charleston West Virginia