Warehouse Operations Team Member - 1st Shift - Burlington DC
Location: Sheetz Distribution Services - Burlington, NC
Level: 2 
PPR     PRIMARY PURPOSE OF THIS POSITION:
Select items to stores.  Support team as needed.
ESSENTIAL FUNCTIONS: (other duties may be assigned)
Select full case products to outbound pallets accurately and efficiently.

Perform put module and staging tasks accurately and efficiently.

Complete various logs such as production, equipment inspections, master cleaning schedules, etc. with accuracy

Handle inventory in a manner to avoid damages.

Report any circumstances that are obstacles to performance, accuracy or safety to the Manager team lead.
JOB PERFORMANCE is primarily measured by:
Accuracy

Productivity

Safety

Teamwork

Attendance
REQUIREMENTS: (Equivalent combinations of education, licenses, certifications and/or experience may be considered)
Education
Experience
Licenses/Certifications
Tools & Equipment (Other than general office equipment):
Motorized Equipment (generators, pressure washer, fork lift, etc.)
KNOWLEDGE, SKILLS, AND ABILITIES typically required to perform the essential functions of this position.
Problem-Solving/Decision-Making Skills
Seek guidance from direct supervisor for problem-solving and decision-making.
Verbal Communication Skills
Use verbal skills to communicate with co-workers or customers
Written Communication Skills
Complete records/forms and maintain documentation
Math Skills
Addition, subtraction, multiplication, division, percentages, ratios
Computer Skills:
ABOUT SHEETZ
Sheetz, Inc. is a fast-growing, family-owned, food/convenience company that has been in business since 1952. Sheetz has over 600 locations in Pennsylvania, Ohio, Virginia, West Virginia, Maryland and North Carolina.

Our mission at Sheetz has been to meet the needs of customers on the go. Of course, things have changed over those nearly 70 years. Life is faster and busier, and customers expect us to be there when they need us most. One thing that hasn't changed is our commitment to our customers, our employees and the communities in which we operate. Sheetz donates millions of dollars every year to the charities it holds dear.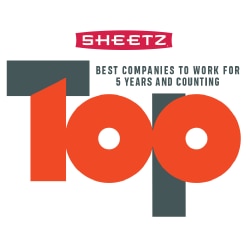 Nearest Major Market: Greensboro
Apply now »