Warehouse / Fresh Foods Operations Team Member
Location: Sheetz Distribution Services - Burlington, NC

Primary Purpose of this Position:
Sheetz Brothers Kitchen (SBK):
Sheetz Brothers Kitchen operates 7 days per week, 365 days per year. SBK positions will have consistent start time between 5:00am - 7:00am depending on the department.
Both Warehouse and SBK schedules are based on a 4 day work week, with an average of 10 hours per day; however, business needs and/or weather events may require occasional adjustments to start times and longer days could be necessary due to production needs. Upon hire, team members will receive their planned schedule for the year.
Warehouse:
The Warehouse operates 6 days per week, Sunday - Friday, including holidays. Positions include work involving material handling, shipping, and receiving. All Warehouse positions start at 5 am.
Essential Functions of specific positions include but are not limited to:
Warehouse:
Shipping/Receiving/Mezzanine:
Production area is air conditioned, however in areas that are in close proximity to dock doors; work temperature will be affected by outside weather
Shipping - employees will select products in full cases, stack totes and full cases onto pallets, load pallets onto trucks. Will use a variety of forklift equipment
Receiving - employees will unload trucks - verify quantities and quality of products delivered, put away product into storage locations, move product from storage locations to pick locations. Will use a variety of forklift equipment
Mezzanine - selecting product in less than full case, packing them into totes, stamping and packing cartons of cigarettes, restocking of pick locations
Cooler/Freezer:
Cooler is maintained at 36 degrees, Freezer is maintained at 0 degrees and ice cream freezer is maintained at -12 degrees
Employees will rotate through various job tasks and temperature zones to include receiving, picking full case and partial case items, building pallets, replenishment of inventory. Will operate a variety of forklift equipment
Employees will receive a freezer pay differential
Sheetz Brothers Kitchen (SBK):
Bakery:
Employees will work any part of process of making donuts from mixing the dough, monitoring the proofers and fryers, filling and icing, to packing and shipping
Production area will be air conditioned, but because of the close proximity to proofers and fryers, temperatures may be higher than normal environments
Ready To Eat (RTE):
Employees will prepare grab-n-go sandwiches, operate automated equipment to portion macaroni and cheese into containers, and portion parfait cups
Cold Picking/ Shipping:
Cold picking selects Ready to Eat items for shipment
Shipping stages totes and loads vehicles
The production area will be maintained at 36-40 degrees
Employees receive a cold pay differential.
Truck Unloading/Tote Washing:
Clean labels off sides of totes and wash trays using industrial dishwasher/sanitizer
Production area will be air conditioned, but because of the close proximity to dock doors work temperature is affected by the outside weather
Tote Washing room can be hot and loud. Ventilation is set up at work stations to assist with heat from dishwasher; personal hearing protection is required to assist with noise level
Some daily sanitation tasks will also be performed
Physical Abilities Include:
Frequent Bending, Frequent Lifting (50lbs up to 5 feet), Frequent Pushing, Continuous Standing, Continuous Walking
Depending on which production area you are hired for, you may be working in cold temperatures
Depending on which production area you are hired for, you may be working with or around the following known allergens:
o Wheat flour/gluten
o Eggs
o Various dairy products
o Various fruits and berries
o Nuts; including pecans, peanuts, and walnuts
o Peanut butter
o Hand sanitizers
o Non-latex gloves (made of Nitrile and powder-free)
o Fish
Minimum Requirements:
Education/Experience/Skills include but are not limited to:
High School Diploma/GED preferred
No experience required, but foodservice or warehouse experience preferred
ABOUT SHEETZ
Sheetz, Inc. is a fast-growing, family-owned, food/convenience company that has been in business since 1952. Sheetz has over 600 locations in Pennsylvania, Ohio, Virginia, West Virginia, Maryland and North Carolina.

Our mission at Sheetz has been to meet the needs of customers on the go. Of course, things have changed over those nearly 70 years. Life is faster and busier, and customers expect us to be there when they need us most. One thing that hasn't changed is our commitment to our customers, our employees and the communities in which we operate. Sheetz donates millions of dollars every year to the charities it holds dear.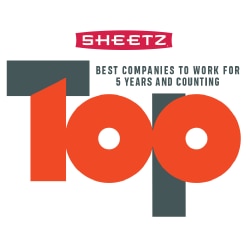 Nearest Major Market: Greensboro
Apply now »