Send me alerts every days
Location: Sheetz Distribution Services - Burlington, NC
Level: 8
PRIMARY PURPOSE OF THIS POSITION:

Perform daily maintenance tasks, including equipment preventive/predictive maintenance, inspections, and facility maintenance and lead special projects as assigned.

ESSENTIAL FUNCTIONS: (other duties may be assigned)
Conduct monthly preventive maintenance checks and repairs on facility equipment.
Lead special projects to ensure completion in a timely manner.
Perform general maintenance duties for warehouse and offices.
Follow all safety practices and AIB guidelines.
Assist members of the maintenance team with any projects as needed.
Complete duties listed on Sanitation checklist for that given area.
Solve equipment failures during production to reduce lengthy downtime.
Work in a cross-functional team environment (Warehouse/Commissary Production Staff/Facility Management).
Perform common HVAC functions as directed.
Perform light electrical functions as directed.

REQUIREMENTS: (Equivalent combinations of education, licenses, certifications and/or experience may be considered)

Education
Technical / Trade training required / Sheetz training
Experience
Minimum of 3 years related experience required
Licenses/Certifications
Tools & Equipment (Other than general office equipment):
Hand tools (hammer, measuring devices, wrench, level, etc.)
Power Hand tools (saws, drill press, grinders, sanders, etc.)
Pneumatic tools (compressor, nailer, stapler, jack hammer, etc.)
Welding tools (torch, plasma cutter, welder, etc.)
Motorized Equipment (generators, pressure washer, fork lift, etc.)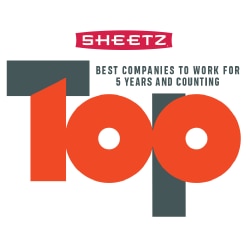 Nearest Major Market: Greensboro
Apply now »