Send me alerts every days
Location: Sheetz Corporate - Burlington, NC

 

PRIMARY PURPOSE OF THIS POSITION:

Provide direct support to the Personnel Relations Manager and indirect support to all SDS Management on the day to day functions of the Human Resources Department.

ESSENTIAL FUNCTIONS: (Other duties may be assigned)
Maintain online database of applications for all Sheetz Distribution Services (SDS) positions. Coordinate schedules for interviews and handle follow-up communications.
Monitor the drug and background screening process, including DOT physicals (CDL and Non-CDL) and assist all prospective candidates throughout the process. Communicate with management on results of screening process.
Coordinate onboarding for all SDS new hires to include, hiring into Peoplesoft, completion of new hire documents, employee handbook review, orientation scheduling, security badge, etc.
Enter wage increases, transfers, status changes and update other employee personal information into Peoplesoft.
Responsible for providing and processing documentation of all types of leaves of absence and subsequent communications that include Short Term Disability information.
Log all work related injuries to include type of injury, light duty, lost time, etc.
Process annual OSHA required forklift testing, perform CPR/First Aid training as certified trainer, and coordinate hearing tests.
Coordinate monthly random drug testing program for Sheetz Distribution Services.
Compile quarterly turnover report for all SDS departments, and determine quarterly Driver Bonus eligibility.
Complete administrative tasks such as answering phones, taking messages, incoming and outgoing mail, scheduling meetings, conducting tours, etc.
REQUIREMENTS:
(Equivalent combinations of education, licenses, certifications and/or experience may be considered)
Education
High School Diploma/GED
Some college level courses in related field preferred
Experience
Minimum of 2 years Human Resources Generalist preferred
Licenses/Certifications
ABOUT SHEETZ
Sheetz, Inc. is a fast-growing, family-owned, food/convenience company that has been in business since 1952. Sheetz has over 600 locations in Pennsylvania, Ohio, Virginia, West Virginia, Maryland and North Carolina.

Our mission at Sheetz has been to meet the needs of customers on the go. Of course, things have changed over those nearly 70 years. Life is faster and busier, and customers expect us to be there when they need us most. One thing that hasn't changed is our commitment to our customers, our employees and the communities in which we operate. Sheetz donates millions of dollars every year to the charities it holds dear.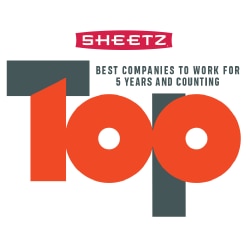 Nearest Major Market: Greensboro