Human Resource Business Partner - Burlington, NC
Location: Sheetz Corporate - Burlington, NC
PRIMARY PURPOSE OF THIS POSITION:

Promote a safe and positive culture and handle all aspects of HR-related business to include, but not limited to: Employee Relations, Talent Acquisition, Training and Development, Policy Administration, Worker's Compensation, Leave of Absence, and Employee Programs for Sheetz Distribution Services. Provide guidance to managers and employees through interpreting policies and administering procedures in compliance with all federal, state, and local laws and guidelines, and company policies.

ESSENTIAL FUNCTIONS: (other duties may be assigned)
Maximize the development of internal talent through regular performance coaching, performance reviews and presenting developmental opportunities while promoting a positive culture.
Align department goals with the strategic goals of the organization.
Assure that all laws and regulations effecting employment are considered in the development and enforcement of policies and procedures.
Partner with SDS managers to lead disciplinary processes, investigations, and provide recommendations for resolution on a wide variety of Employee Relations issues with a focus on compliance with Sheetz employment policies as well as all federal, state, and local employment laws.
Prepares corrective action recommendations and collaborates with Manager of HR Business Partners for suspensions and terminations. Additionally, the SDS HR Business Partner focuses on making all decisions and recommendations in a manner consistent with and in support of the Sheetz Culture.
Responds to and resolves Employee Hotline calls, working in conjunction with SDS Managers. The Manager of HR Business Partners will typically make the final decision on when to close an Employee Hotline call.
Actively support the Legal Department with the Company's response to EEOC complaints, employment-related litigation, etc.
Complete the Onboarding and Drug and Background process for new hires.
Assist Sheetz corporate departments and committees on employee recognition initiatives as well as special employee events and fundraising activities for Sheetz Family Charities.
Maintain records and compile statistical reports concerning turnover, staffing, leave of absence, work restrictions, compensation, incident tracking, OSHA logs, etc. and distribute to appropriate individuals.
Coordinate employee medical leave, including proper documentation, accurate communication to Employee Relations and Supervisors as well as to employee on provision of FMLA and STD benefits.
Manage overall compliance with the Attendance Points policies within SDS.
Monitor worker's compensation claims, coordinate light duty work assignments, maintain records and accurately communicate work restrictions and appointment schedules with Supervisors and Risk Management. Manage worker's compensation incidents to effectively reduce lost time claims.
Serve as a trainer/presenter at various Company employee orientation and training programs.
Coordinate with Claysburg HR Business Partner to assure HR compliance and consistency between distribution centers.
Responsible for managing, supervising, and leading the day to day operations of the Burlington café, including budgetary oversight.

REQUIREMENTS: (Equivalent combinations of education, licenses, certifications and/or experience may be considered)

Education
Bachelors degree in human resources, business or related field required
Experience
Minimum 5 years' experience in human resources performing generalist duties required

Minimum of 2 years of management experience preferred
Licenses/Certifications
PHR/SPHR and/or SHRM-CP/SHRM-SCP Certification preferred
Tools & Equipment
Phone, Fax, Laptop, Printers, Copiers
ABOUT SHEETZ
Sheetz, Inc. is a fast-growing, family-owned, food/convenience company that has been in business since 1952. Sheetz has over 600 locations in Pennsylvania, Ohio, Virginia, West Virginia, Maryland and North Carolina.

Our mission at Sheetz has been to meet the needs of customers on the go. Of course, things have changed over those nearly 70 years. Life is faster and busier, and customers expect us to be there when they need us most. One thing that hasn't changed is our commitment to our customers, our employees and the communities in which we operate. Sheetz donates millions of dollars every year to the charities it holds dear.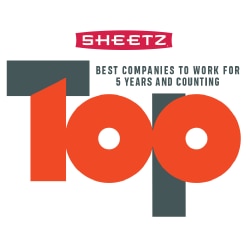 Nearest Major Market: Greensboro
Apply now »