Fresh Foods Production Team Member II - Level 4 Burlington DC
Location: Sheetz Distribution Services - Burlington, NC
Level: 4 
Location: Sheetz Distribution Services – 1737 Whites Kennel Rd. Burlington, NC 27215
Schedule: 5:00am start; generally 10hr shifts; 4 days per week. Rotating 7-week schedule. Work days can be any day including weekends and holidays. End times are not specific and are based on when the work is complete for the day.
The Sheetz Burlington Distribution Center opened in 2014 and services over 150+ stores throughout North Carolina, Virginia, and West Virginia – and we continue to grow! Our mission; to meet the needs of customers on the go.
As we experience continual growth and success, we're looking to grow our Distribution Services team with a candidate who brings a positive energy and team-player mentality to make Sheetz better through their role! Come find YOUR place and YOUR people at Sheetz!
What's in it for you? Glad you asked!
Our teams are the best-of-the-best, and we proudly treat them like it. We offer competitive salaries, PTO and 100% paid parental leave, 401k + 4% match and employee stock ownership, tuition reimbursement, full medical, vision and dental coverage, quarterly bonuses and snack discounts!
Come be part of a fast-paced, FUN work environment and grow your career alongside talented teammates who have your back.
JOB RESPONSIBILITIES:
Responsible for preparing, finishing, and packaging ready-to-eat (RTE) food items for shipment to our Sheetz stores

Ensure product quality standards and food safety practices are maintained

Safely operate, maintain, and assemble equipment/machinery specific to your work area

Responsible for accurately and efficiently preparing, packaging, and labeling items for shipment

Accurately complete various logs for dates, weights, etc.

Pull and stage product for production needs

Other duties as assigned
JOB REQUIREMENTS:
Ability to perform basic math calculations (addition/subtraction, multiplication/division)

Ability to perform basic computer skills

Ability to lift up to 50lbs frequently

Ability to stand and/or walk for up to 10 hours

Basic understanding of the English language

Ability to work in cold temperatures with provided cold gear. Temperatures range from 0⁰ to 38⁰ (

a pay differential is provided to team members working in this temperature zone)

OTHER ITEMS TO CONSIDER:

End times are not specific and are based on when the work is complete for the day

Food Safety requires hairnets, beard nets (if applicable), shoes covers, and smocks & gloves to be worn in production areas.

Team members

are not permitted to wear any jewelry including facial piercings, tongue rings, necklaces, watches, rings with settings, earrings, etc. in any food production areas

This position may require you to be working with or around common allergens such as wheat/gluten, eggs, dairy, fruit/berries, nuts, and coconut

 

Let's Make Sheetz Happen!
ABOUT SHEETZ
Sheetz, Inc. is a fast-growing, family-owned, food/convenience company that has been in business since 1952. Sheetz has over 600 locations in Pennsylvania, Ohio, Virginia, West Virginia, Maryland and North Carolina.

Our mission at Sheetz has been to meet the needs of customers on the go. Of course, things have changed over those nearly 70 years. Life is faster and busier, and customers expect us to be there when they need us most. One thing that hasn't changed is our commitment to our customers, our employees and the communities in which we operate. Sheetz donates millions of dollars every year to the charities it holds dear.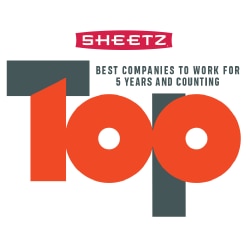 Nearest Major Market: Greensboro
Apply now »