Food Service Technician - Burlington, NC
Location: Sheetz Distribution Services - Burlington, NC

 

 

PRIMARY PURPOSE OF THIS POSITION:

Prepare and serve meals for breakfast, lunch and sometimes dinner, as well as catered meals for meetings held at all corporate facilities.

ESSENTIAL FUNCTIONS: (other duties may be assigned)
Prepare and serve food with a high regard to sanitation, food safety, quality, and friendly service.
Clean and sanitize food prep and food service areas.
Keep storage areas organized and assure products are coded and properly rotated, dispose any items that do not meet the quality guidelines.
Deliver meals to meeting rooms as scheduled.
Effectively use a point of sales system (POS) and collect payment for food items purchased.
Fill vending machines/grab and go cases/drink coolers/bakery cases in cafeteria and other break areas.
Restock paper products, utensils, condiments, fountain syrups, water coolers, etc.
Clean tables in break areas daily.
Remove trash from food prep and break areas as necessary.
Receive, check-in, store and rotate stock.
Wash, rinse and sanitize dishes and equipment.
REQUIREMENTS:
(Equivalent combinations of education, licenses, certifications and/or experience may be considered)
Education
Experience
1 years experience in food service
Licenses/Certifications
Serve Safe certification is preferred
Tools & Equipment
Ovens, fryers, toasters, microwaves, mixers, dishwashers, and other foodservice equipment
ABOUT SHEETZ
Sheetz, Inc. is a fast-growing, family-owned, food/convenience company that has been in business since 1952. Sheetz has over 600 locations in Pennsylvania, Ohio, Virginia, West Virginia, Maryland and North Carolina.

Our mission at Sheetz has been to meet the needs of customers on the go. Of course, things have changed over those nearly 70 years. Life is faster and busier, and customers expect us to be there when they need us most. One thing that hasn't changed is our commitment to our customers, our employees and the communities in which we operate. Sheetz donates millions of dollars every year to the charities it holds dear.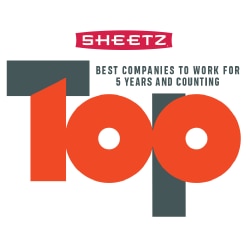 Nearest Major Market: Greensboro
Apply now »